Jose Baez Claims Casey Anthony Will Not Profit Off His Tell-All Book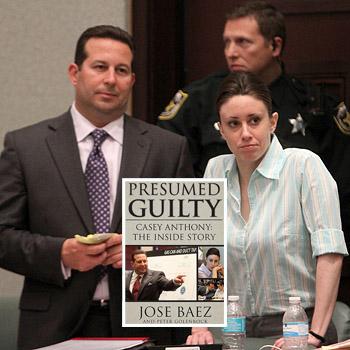 By Amber Goodhand - RadarOnline.com News Editor
Casey Anthony's bulldog attorney Jose Baez is writing a tell-book on his experience representing the 'Tot Mom' but says she won't be profiting from his book sales.
Presumed Guilty: Casey Anthony: The Inside Story is set to his bookshelves this July, exactly one year after Casey was found not guilty of murdering her two-year-old daughter, Caylee.
"Casey will not financially benefit from this book in any way, shape or form," Jose told People. "This is my story, not hers."
Article continues below advertisement
Jose says he will reveal in the 352-page book how he came to be Casey's lawyer and will give a behind-the-scenes look at their defense strategy.
In February Jose officially resigned from being on Casey's legal team — and he says the reason why will be in his new book.
"I was there from day one. Other than Casey, no one else was there from the very beginning," he said.
"These are my insights into what happened."
And although Casey will not be profiting at all from the book, Jose claims she gave him the go-ahead on releasing it.
"Casey has authorized me to write it," he told People. "I have her complete and total permission."
Prosecutor Jeff Ashton headed up the Casey trial in Florida and released a tell-all book, Imperfect Justice: Prosecuting Casey Anthony, shortly after her acquittal in November.
Jeff made it clear he believes Casey is guilty saying, "I look forward to the opportunity to share the story of the three years we spent prosecuting the person responsible for the death of Caylee Anthony."