Casey Anthony's Lawyer Jose Baez: She Has 'Serious Mental Health Issues'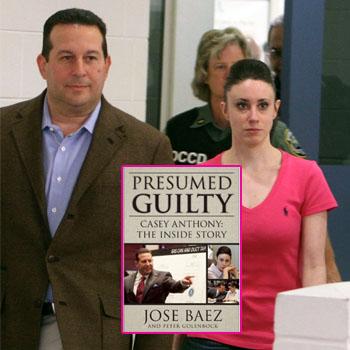 Article continues below advertisement
According to the Associated Press, Baez writes in his book that when Casey took detectives to Universal Studios where she pretended to work, they "should have stopped and realized, 'Wait a minute, we're not dealing with someone who is playing with a full deck."
As RadarOnline.com exclusively reported, Casey is keeping a journal and is hoping to turn it into her own bestselling novel.
Anthony's attorney gives more details about the sexual abuse Casey allegedly suffered by her father George Anthony, and he says this contributed to her mental health issues.
George's attorney, Mark Lippman, declined to comment, saying he hadn't read the book yet.
Baez also gives details about how Casey fled from Orlando upon her release from jail. He said once he and Casey, in a bright pink Polo shirt, got into the SUV they went to a parking garage and then got into another car while four of the same decoy cars left at the same time. With Casey he boarded a private plane and went to the Florida Panhandle resort community of St. George Island and members of their legal team and their families met with them. Casey then went to New York, where she remained until she was ordered to return to Florida to serve her probation.
Article continues below advertisement
Jose also revealed what Casey's first meal was after being released from jail – a cheeseburger, fries and a milkshake from Steak 'n Shake.
He writes that his image of an inexperienced attorney didn't affect him.
"The public may have been convinced that I was an idiot but I let it all roll off my back."
Presumed Guilty, Casey Anthony: The Inside Story hits bookstores on Tuesday, July 3.
RELATED STORIES: