Casey Anthony Trial: George Anthony Sobs On The Stand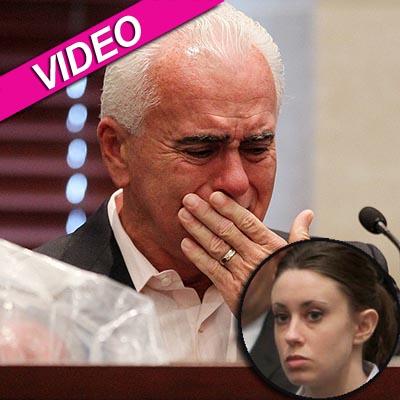 By Alexis Tereszcuk - RadarOnline.com Senior Reporter
In emotional testimony, Casey Anthony's father broke down into tears on the stand Wednesday morning while remembering how upset he was when he learned his little granddaughter Caylee was dead.
George Anthony told Orange County, Florida prosecutor Jeff Ashton that he held out hope that two-year-old Caylee was alive. "Every day from July 15 2008 until the day we were told it was Caylee," George said and then burst into tears, sobbing on the stand. Casey showed no emotion as her father was crying and just stared at him.
Article continues below advertisement
"No, I need to get through this," George said when the judge asked if he needed a break.
Casey's defense attorney Jose Baez hammered the dad on the stand, causing George to say "You're trying to take the joy of my life away from me, and you can't do it anymore."
Baez again brought up Casey's accusations that her father molested her. "I never would do anything like that to my daughter," George adamantly told him.
Evidence Photos Introduced Into Casey Anthony Murder
He also gave emotional testimony about his attempted suicide in January 2009. George began to cry again as said he spent hours writing the letter and wanted the family to know he wanted to "go be with Caylee." He said he did not want to be in this world anymore, but could not tell his wife in person. George admitted that if law enforcement hadn't found him he would be dead.