Billy The Exterminator & Wife Plead Not Guilty To Drug Charges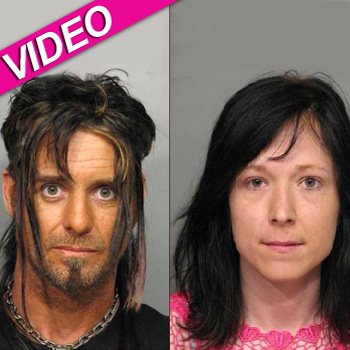 By Amber Goodhand - Radar News Editor
The star of A&E's Billy the Exterminator and his wife pleaded not guilty to drug charges on Wednesday, RadarOnline.com has learned.
Billy and Mary Bretherton appeared at a Bossier Parish courthouse in Louisiana due to their June arrest for possession of synthetic marijuana, and KSLA News caught the couple on camera.
According to a local reporter, Billy and Mary both pleaded not guilty at 11:15 a.m. and quickly made their exit from the courthouse to avoid a media circus.
Article continues below advertisement
In April, officers responded to a 911 hang-up call made from a room at the Marriott Hotel in Benton, Louisiana and when authorities showed up they found Billy and Mary — and found what they thought to be synthetic marijuana and a smoking device.
After the materials were taken to a crime lab for testing and came back positive, arrest warrants were issued for the couple on misdemeanor charges of possession of a controlled dangerous substance and possession of drug paraphernalia.
Former Miss New Hampshire Beauty Queen Arrested, AGAIN, For Domestic Assault