Exclusive
Michael Lohan Slams 'Hypocrite' Stephen Baldwin: He Stiffed Me Out Of Money!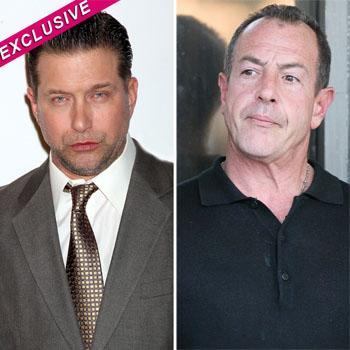 Article continues below advertisement
"If I had known sooner that Stephen Baldwin was suing Kevin Costner because he thinks he is entitled to a fee for putting the deal together, Stephen should look at himself and what HE has done to me, my family and others," Lindsay Lohan's father fumes.
As RadarOnline.com previously reported Baldwin filed for bankruptcy in 2009, and Michael claims he got into business with the ultra-religious Baldwin brother prior to his bankruptcy.
"Back in 2008 I introduced Stephen to Teen Challenge and the Christian Family Network LLC, believing he was a Christian. At the time Stephen was losing his house in Nyack, New York, so I convinced my Uncle John Desiderio to loan Stephen the $40,000 he needed to save his house. He wined and dined us at his house, and we became great friends. Soon after, I introduced him to Jack Higgins, founder of the Christian Family Network," Lohan says.
Article continues below advertisement
Michael goes on to claim that it was his reputation and influences that helped Stephen launch his career.
"I was brought on due to my public image and my connections on Wall Street. I brought Stephen in as a spokesperson," he says. "The deal was that I would get a management /finder's fee for getting him the job. Then came the Celebrity Poker Tournament for Charity, I put together at the Sundance Film Festival. At the time I helped Stephen launch an energy drink company called HIT ME shots, because of the people I knew on Wall Street and the beverage industry. It was a time when I was the first to help launch electronic cigarettes in the USA (Smoking Everywhere).
MORE ON:
Celebrity Justice
"Due to my connections in casinos and getting the cigarettes in their mini-bars, I helped Stephen with Hit Me. In so doing he wanted to be the title sponsor for the poker tournament. He agreed to pay the sponsorship fee of $20,000 along with his flights, house rental and other transportation."
However, Michael claims that although they had a deal, no money was ever delivered. "All that said, to this date, Stephen has never paid ONE PENNY of the money he owes me or my family," Lohan says.
Article continues below advertisement
Michael says that he has tried to reach out to Kevin Costner's attorney to help in their case with Stephen.
"Once more, Stephen is suing Kevin for not paying a fee for putting a deal together, when I did so many for him and he never paid me. What a hypocrite!!! I have called Kevin's lawyer, Wayne Lee and offered my testimony and put Stephen's attorney, Tim Madden on notice," Lohan alleges.
"I am saying this, not so much because of what Stephen is doing to Kevin and his hypocrisy, but also because last month he ran away from me! Stephen walked by me while he was on his cell outside Starbucks on Sunset Blvd. He told me to wait but, when I went inside Starbucks quickly I came out to find Stephen running down the block! Nice Stephen!