Exclusive
Arrest Record Of Scott Disick's Father Revealed, See The Mug Shot That Shamed The Kardashians!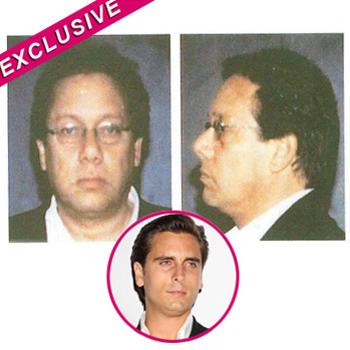 Article continues below advertisement
EXCLUSIVE DOCUMENTS: Scott Disick's Father's Arrest Record
In his mug shot, 5'9" Jeffrey looks remarkably similar to his son, who has been catapulted to celebrity status since he hooked up with Keeping Up The Kardashians star Kourtney.
The somber bespectacled image is the first glimpse of him that many of even the most avid fans of the E! Show will have seen, as Scott's parents have made only a handful of cameo appearances on the show.
Formerly in the apparel business in NYC, Disick Sr. turned himself in to officers of the Suffolk County (N.Y.) District Attorney's Office after someone alerted the authorities that he had stolen money a year earlier from a bank near the Disick family home in the Long Island town of Eastport, according to the court and law enforcement documents.
He later pled guilty to a misdemeanor charge of petty larceny, paid $6,500 in restitution, and was sentenced to 140 hours of community service in lieu of 30 days in jail.
Article continues below advertisement
Scott's dad's embarrassing arrest appears to have been the rock bottom in a series of financial problems for him and his wife. Court records obtained by Star indicate that between 1989 and 2008, Jeffrey and Bonnie Disick individually and collectively were the subjects of liens and judgments filed by companies, individuals and state and federal tax agencies totaling at least $391,000.
RELATED STORIES: