Scott Disick's Family Shame: The Secret That Could Tear Him & Kourtney Apart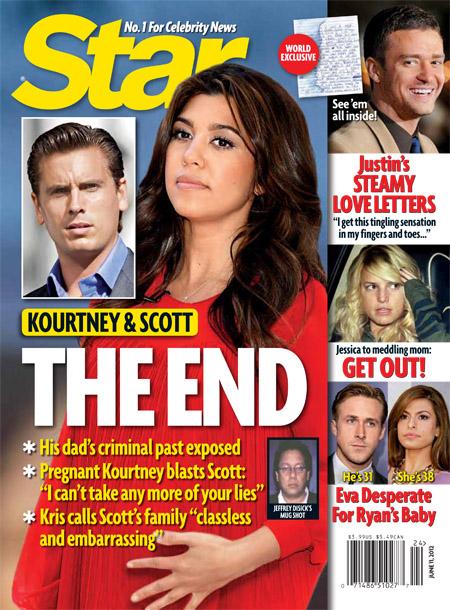 Scott Disick's relationship with Kourtney Kardashian has been filled with secrets and lies, say friends — but his biggest secret could tear them apart for good!
An exclusive Star investigation has uncovered Scott's dad, Jeffrey Disick, has a shocking criminal history. Formerly in the apparel business in NYC, Jeffrey, now 62, turned himself in to officers of the Suffolk County (N.Y.) District Attorney's Office after someone claimed to authorities that he had stolen money a year earlier from a bank near the Disick family home in the Long Island town of Eastport, according to court and law enforcement documents.
Article continues below advertisement
Jeffrey was charged with a felony count of grand larceny for "acting in concert with another person" to "steal in excess of $3,000 from North Fork Bank." He later pled guilty to a misdemeanor charge of petit larceny, paid $6,500 in restitution, and was sentenced to 140 hours of community service in lieu of 30 days in jail.
Jeffrey's embarrassing arrest appears to have been the rock bottom of a series of financial problems for him and his wife Bonnie.
Court records obtained by Star indicate that between 1989 and 2008, Jeffrey and Bonnie individually and collectively were the subjects of liens and judgements filed by companies, individuals and state and federal tax agencies totaling at least $391,000.
"Scott doesn't even really have a career outside reality TV, and there have been so many stories about Scott's out-of-control partying and wandering eye," the friend continues. "It's gotten to the point where Kourtney has snapped at him, 'I can't take any more of your lies!'
"Sometimes it seems as if he's built his entire relationship with Kourtney on secrets and lies. When this secret about his father's criminal past gets out, Kourtney will feel like Scott's betrayals are never-ending — to her and her entire family."
Pick up this week's Star — on newsstands now — for more details!