Mariah Carey Hits Bum Note In Unflattering Gold Dress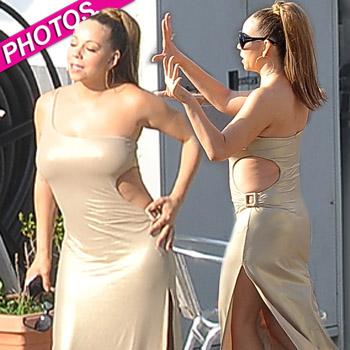 Mariah Carey had done very well to shift her post pregnancy pounds after giving birth to twins a year ago.
But the 42-year-old singer's choice of outfit at a recent photo shoot did not show off her slimmed down curves to their best potential, and you can see the unflattering photos right here on RadarOnline.com.
The one-shouldered gold dress with a cut-out at the waist was very unforgiving although the diva didn't seem to care as she posed for pictures on board a boat moored near Capri, Italy. No doubt the airbrush will be in heavy use in post-production.
Article continues below advertisement
The full length gown had a thigh high split showing off her long legs but her harsh high ponytail and gold hoop earrings did little to save the look.
On break from doing her thing in front of the camera, Mariah spent time with her son Moroccan and took playful snaps with him while wearing a more casual black dress.
The Hero songstress had lost around 30 lbs with Jenny Craig and told Rosie O'Donnell on her ill-fated talk show that she didn't go by the number on the scale but rather how her clothes fit.