Sexy Shopper! Mariah Carey Hits Mall In Ridiculously TINY shorts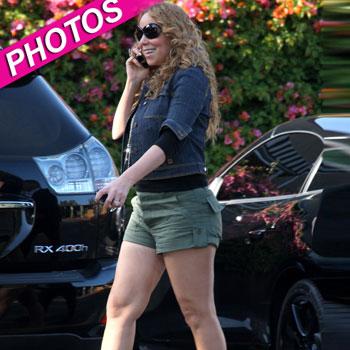 Talk about legging it to the stores!
She's eager to show off her figure after recently losing 70 pounds of baby weight.
So Mariah Carey is slipping into tight and tiny outfits whenever possible, and that includes a simple trip to the mall.
Of course, where the 42-year-old diva is concerned, nothing is simple when it can be fabulous.
So Thursday, she squeezed her voluptuous curves into the tiniest pair of khaki shorts for the retail reconnaissance.
Article continues below advertisement
The mother-of-two clearly feels confident in her new trimmed down hourglass body, but donned a black long-sleeved sweater with the sexy shorts to tone down the ensemble.
And no outfit would be complete without a pair of vertiginous platform heels… in this case, chic sandals enhanced her already strapping 5ft9 form.
But the Jenny Craig spokesperson's most extravagant accessory had nothing to do with her weight, unless you're talking about her wallet.
Mariah, who said she felt like she piled on 9000 pounds while pregnant with one-year-old twins Monroe and Morrocan, arrived and left in her customized Mercedes sports car.
And as she lasciviously smeared lipgloss on her pout, clearly reveling in being a sex pot once again, it was possible to make out a pink embroidered 'M' on her leather seat.
Now, that's fabulous…
RELATED STORIES:
Nick Cannon Says Mariah Carey Is Getting Her 1990's Body Back