Lady Gaga Tweets Pic Of Her With Black Eye Following Stage Accident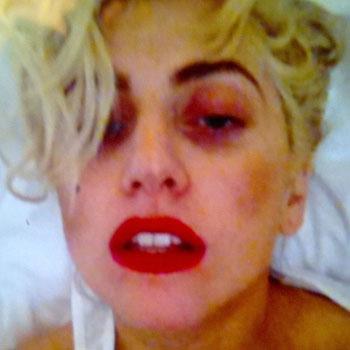 Lady Gaga's poker face now includes a black eye.
The pop phenom sported a noticeable shiner Tuesday, less than two days after she was smacked in the head with a pole in concert, a mishap which also left her with a concussion.
"Emerging from hours of sleep," she tweeted to more than 25 million followers Monday night, with a pic of her bruised left peeper. "Still remiss if I should go outside, with this clonker I may be of questionable styling."
Article continues below advertisement
She added, "Thank you so much for all the thoughtful messages. I feel a bit woozy but a little better everyday. Very happy to be in beautiful Australia."
As RadarOnline.com previously reported, the Born This Way singer was onstage in her sold-out show in New Zealand Sunday when a backup dancer accidentally hit her with the backside of the pole. The singer walked off stage for a moment to catch her breath, and returned shortly thereafter to wrap up the show.