Kim Kardashian Tells Oprah: 'I'm A Changed Person'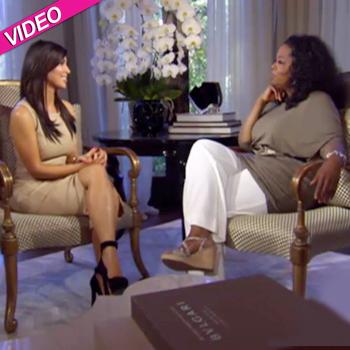 Kim Kardashian opened up to Oprah Winfrey, telling the talk show queen the last year that left her a "different person."
Without ever directly addressing her pending divorce from Kris Humphries, Kim said going through her wedding and split had a major impact on who she is.
"It's like how Kourtney had this epiphany when she had her baby and she changed into a different person, I feel like I've had an epiphany over the last year for what I've been through and I am that changed person, just from my own experiences," Kim explained.
Article continues below advertisement
Oprah got Kim, 32, to talk, although briefly, about her romance with 35-year-old Kanye West, and the reality star said she likes that he's older than she is.
"I always dated five years younger. My whole thing was completely different, and now I just love that I'm with someone that's a couple years older than me."
Oprah also asked Kim to try to explain her family's TV success, and asked if it was because they were all pretty.
MORE ON:
Robert Kardashian
Kim agreed but insisted it was because they weren't pretty in the conventional sense that made it work.
"I don't think it would have happened if we were all skinny pretty models," she said. "think it has to do with us, the curves, the dark hair — I think it was a combination.
Oprah's interview with Kim, Kourntey, Khloé, and Rob Kardashian, Lamar Odom, Scott Disick, and Kendall, Kylie, Kris and Bruce Jenner airs as an episode of Oprah's Next Chapter this Sunday on OWN.