The Kardashians Dish On Kanye, Secret Crushes & Why Kourtney Won't Marry Scott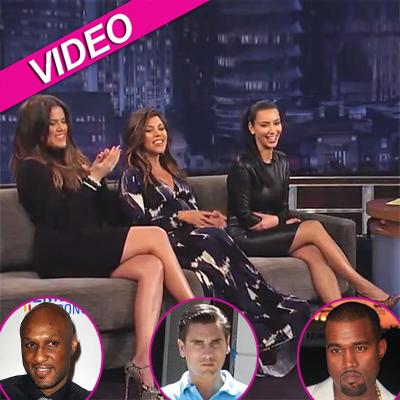 All three Kardashian sisters appeared on Jimmy Kimmel Live Wednesday, where they dished on topics ranging from Kourtney's pregnancy to Kim's current relationship with Kanye West.
A very pregnant Kourtney said Khloe's husband, Lamar Odom, has a crush on her, as they're always horsing around.
"Maybe Lamar thinks there's a basketball under your dress and he's just trying to get at it!" Kimmel joked of the NBA veteran.
Article continues below advertisement
Kourtney, asked why she's not married to partner Scott Disick, said she has "major commitment problems" that's slowing any potential trip to the altar.
"I'm really claustrophobic and all my issues -- and I have a lot of them -- they all stem from this thing," the oldest of the famous trio said. "I can't commit to anything -- I love Scott, and he is my partner."
"Why don't you try marriage for a little while like Kim did and see how it goes?" Kimmel asked Kourtney.
As for "Kimye" -- Kim's superstar romance with Kanye -- Kim said she "should thank" Kimmel, as she and Kanye got to know each other best on an unrealized project Kimmel and Kanye had collaborated on with her.
Asked how their respective men -- Lamar, Scott and Kanye -- get along, Kourtney said the interesting aspect is that all three are "all only children, but they're drawn into our crazy family."
MORE ON:
Jimmy Kimmel Live
Article continues below advertisement
Kimmel asked the sisters, "Who works the hardest of the three of you?"
"We're all very controlling," Khloe said, adding "we're all very OCD and hands-on."
Kim said all three sisters have little specialties they focus on in their fashion empire, and usually settle business qualms with a best-of-three vote.
Keeping Up with the Kardashians airs Sundays on E! at 9/8c.