You Won't Believe What This Woman Did Before Posing For This Classic Mug Shot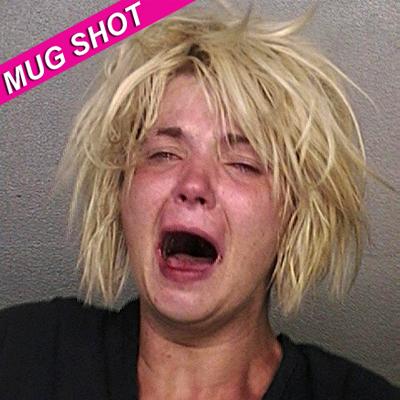 Are you ready for your close-up?
A Florida woman has become famous for all the wrong reasons with a hilarious mug shot that tops even the wackiest celebrity arrest photo.
Tracy Mabb, 35, of Miami, Florida was arrested for pulling her clothing up in the middle of a busy road and flashing ALL of her not-so private parts to passing drivers.
The poor unsuspecting motorists were forced into watching the impromptu strip show as Mabb revealed her breasts, vagina and buttocks, in a "complete vulgar and indecent manner," according to the police report.
Article continues below advertisement
"I don't give a f**k," said the non-blonde bombshell when apprehended for her actions, but she certainly looked distraught when snapped for her mug shot wailing manically with her hair sticking out like a crazed Muppet!
Mabb was later charged with exposing sexual organs in public and was being held in jail on Wednesday on a $600 bond. She was also being held on a prior petty theft offense that allegedly took place April 8, according to Broward County court records.