Exclusive
Pageant Tot Eden Wood CAN Read! Mom Homeschools Her 20 Hours Per Week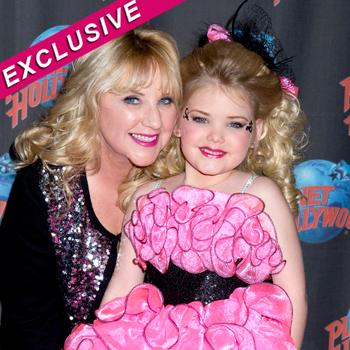 Article continues below advertisement
"If you ask a seven-year-old to read a paragraph that is foreign to them when there are three cameras filming them, I don't care how smart they are, they are going to have issues," Mickie told RadarOnline.com.
"Most seven-year-olds learn to read in a classroom and then have to write a one paragraph response or answer a five-question quiz on the material, but Eden has to recite the reading for casting directors and producers. It is a whole different world."
It should be noted that before Eden became a household pageant name, Mickie taught in the education system for 25 years and is as involved as she can be in Eden's education.
"Eden has tutors on the set while in Los Angeles and New York and I make sure by talking with them periodically that Eden is where she needs to be with her schooling," Mickie said.
"Most people have absolutely no idea what our normal day-to-day looks like. They assume Eden jumps from pageant to pageant winning crowns. It is the farthest thing from the truth. A normal day in the Wood household is breakfast, school, and playtime."
Article continues below advertisement
Eden's publicist Andrew Sullivan — who was originally quoted as the one who said she can't read — is sticking behind his client telling RadarOnline.com:
"It is so easy for people to pick on Eden because her life is 'public' for the world to see. I would love a camera crew to follow a real day in Eden's World. Maybe then the general public would have an appreciation for how talented this little girl really is."