Dr. Conrad Murray Says He's 'Dying' In Prison, Begs To Be Transferred To Jail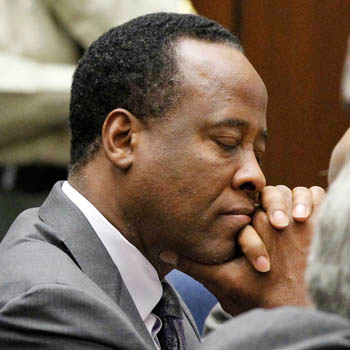 By Debbie Emery - Radar Reporter
Currently serving time for the involuntary manslaughter death of Michael Jackson, Dr. Conrad Murray is not coping well with the pressures of prison life and has claimed he is 'dying' behind bars.
The King of Pop's former physician has served less than a year of the four-year sentence that was handed down to him in November 2011, but he is already begging Judge Michael Pastor to transfer him to the Los Angeles County jail where the conditions are more lenient, reported Reuters.com.
Article continues below advertisement
According to his lawyer Valeria Wass, Murray only gets outdoor access once a month and clean underwear once a week. "He looked horrible," she told CNN after visiting him last week. "I've never seen him like that. I'm shocked.
"He told me last Tuesday 'I may not make it out of here alive. This is a very dangerous place. I'm in here dying. The system is intent on killing me,'" said Wass, who is handling Murray's appeal.
The doctor believes that his 5-by-7-foot cell is making him sick by causing constant headaches and has compared the dire conditions to a prison of war camp.
However, Los Angeles County Sheriff spokeswoman Nicole Nishida said that he is "receiving the appropriate level of care for his medical condition," and getting "standard roof time" outdoors.
Nevertheless, Murray is adamant in his complaints about the conditions, saying he hasn't had "nothing real to eat" since being locked up, with a typical daily menu comprising of a breakfast of a "smelly" boiled egg, two slices of bread, cereal and milk at 4:30 a.m., followed by a peanut butter and jelly or bologna sandwich for lunch.
Article continues below advertisement
Dinner, delivered at 3:30 p.m., is usually "a meat product that looks like clotted blood," along with green beans, corn and cabbage, said Wass.
Murray, 59, is set for release in October 2013 as his sentence was automatically cut in half because this crime is considered a non-violent felony.
RELATED STORIES:
Paris Jackson Tells Oprah: 'People Have Tried To Bully Me'
Paris Jackson Opens Up To Oprah About Dad Michael's Death 'It Never Gets Any Easier'