Exclusive
Judge Denies Michael Jackson Family Restitution From Dr. Conrad Murray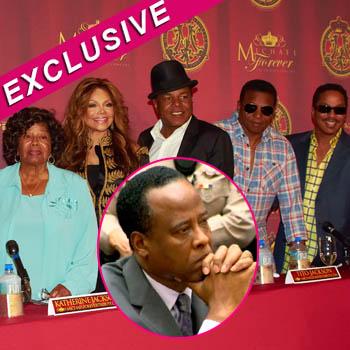 Article continues below advertisement
"The Jackson family told the DA they wanted the matter taken off calendar because they didn't want to pursue restitution in the criminal matter since both Katherine Jackson and Joe Jackson are seeking civil action against AEG (the concert promoter for Michael Jackson's This Is It tour), and Dr. Conrad Murray," a source close to the case tells RadarOnline.com.
DOCUMENT: Read Dr. Conrad Murray's Probation Report
Deputy District Attorney David Walgren asked the judge during sentencing, to impose the maximum four year sentence and deny probation.
"The planning and sophistication of the crime... There's clear evidence of the planning and sophistication that went into this," Walgren said. "The defendant clearly and intentionally did not keep medical records. When it came to the treatment of the patient with propofol...he made a decision not to document that behavior in any written manner. That doctor/patient relationship was fundamentally destroyed by Dr. Murray. It is the People's position that prison is warranted. The defendant was playing Russian Roulette with Michael Jackson's life every single night."
MORE ON:
Celebrity Justice
Article continues below advertisement
The no-nonsense judge agreed with the DA: "I believe he's a danger to the community. "It should be made very clear that experimental medicine is not going to be tolerated. And Michael Jackson was an experiment," Judge Pastor said when imposing the four year prison sentence.
Murray's four year sentence was automatically cut in half because this crime is considered a non-violent felony. Dr. Murray is currently being held at the Los Angeles County Twin Towers Facility.