Bethenny Frankel To Cheryl Burke: 'We Both Have Daddy Issues'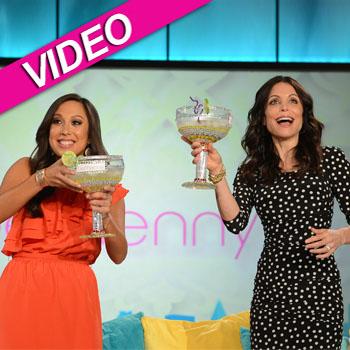 Bethenny Frankel is holding back nothing on her new syndicated talk show, and on Thursday, she chats with Dancing with the Stars pro Cheryl Burke about an issue as personal as it gets.
"We have something in common, that we both have daddy issues," Bethenny, 41, told Cheryl, who confirmed as much, saying she hadn't spoken to her father in a decade until they reunited over the holidays last year.
Article continues below advertisement
"He got in a really bad accident, so for me, I was really wanting to reach out," Cheryl said, to which Bethenny asked what the motivation was.
"I just wanted to make sure that everything in my life was OK, and I felt like there was that void in my life," Cheryl said. "I have a wonderful stepfather who has been my father, but it was really important for me just to reach out to my dad.
"Just for me and to like, have some closure if anything really were to happen."
"I understand that emotion," Bethenny said, asking if the rekindled relationship was comfortable and working.
"It's great -- he emails me everyday," Cheryl, 28, said. "He lives in Thailand, so he's been watching Dancing with the Stars through YouTube and just saying how beautiful he thinks I am.
"And you know, when it comes from your real father, there is something so magical and genuine about that."
Article continues below advertisement
Watch the video on RadarOnline.com
As we previously reported, Bethenny has been outspoken about her childhood having been estranged from mother Bernadette for years. She had no relationship with her father, horse trainer Bobby Frankel, up until his death two years ago. She was raised from the age of 2-years-old by her stepfather John Parisella, but had been estranged from him since her teens until the two recently made amends.