Exclusive
Batmobile Hits The Race Track! NASCAR Star Dale Earnhardt Jr. Teams Up With Dark Knight Rises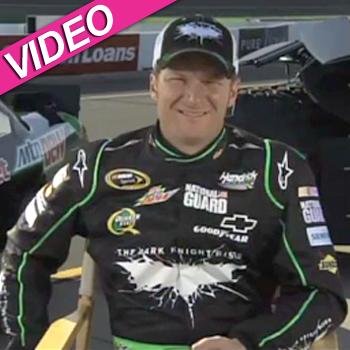 By Debbie Emery - RadarOnline.com Reporter
It's a match made in NASCAR heaven, as the drama of Dark Knight Rises and the racing sport's most high profile and hunky driver Dale Earnhardt Jr. join forces, and RadarOnline.com spoke to the sports star in an exclusive video interview.
"Diet Mountain Dew, one of the sponsors on my race team, has brought Batman and his new movie, the Dark Knight Rises onto a race car so we're going to have the colors at the race this weekend in Michigan," explained Earnhardt, as he sat in his racing gear by the track.
Article continues below advertisement
Earnhardt is competing in the Quicken Loans 400 today at the Michigan International Speedway.
"My car is right here with the new paint scheme for the race this weekend with the Tumblr over my left shoulder. I think it will get the fans excited."
"Junior" as he's known in the racing world because of his late, great father Dale Earnhardt Sr., explained to RadarOnline.com how the unique collaboration came about.
"I got together with some friends and we designed four different cars and put them online for my race fans to vote. I try too get always get involved in the way my cars look because I'm driving them so I definitely want to put my two cents in as much as I can."
The winning car was a sleek and stylish Number 88 Chevrolet that he'll race on the famed Michigan racetrack. "This is the one black car we wanted to run with the Dark Knight logo on the hood. Some of the characters are on the car and they're ghosted in to the design," he explained.
Article continues below advertisement
The pairing was a perfect fit for Earnhardt, who has been a fan of the comic book character since his childhood in Charlotte, North Carolina. "I've been a Batman fan since the original series and watching that as a kid growing up and watching them make movies, it has been a lot of fun. The car is as as iconic as the character itself, its kind of a car guy's movie in some ways," said the 37-year-old.
As for the big race day, fans should expect them to be speeding faster than ever before."They have brand new asphalt on the surface so the cars are really, really fast. We're averaging 200 mph in one lap, its about the fastest that I've ever seen it."
Apart from Dale, one of the most popular faces on the track is female racer, Danica Patrick, who has made the transition from IndyCar to NASCAR.
"Danica has been a big help with boosting our popularity especially with our female fan base, which has always been uniquely strong in the sport, but she's definitely improved that and she definitely sets a great example for a younger audience," explained Earnhardt.