Danica Patrick Crashes In First Daytona 500 Start, Finishes 38th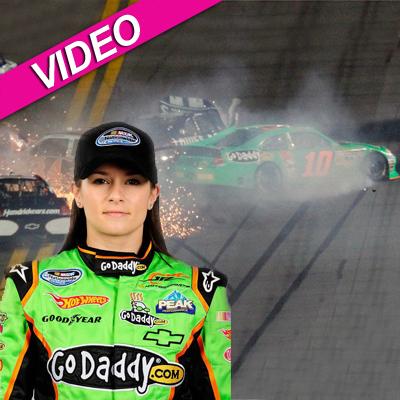 En route to an eventual 38th place finish, race car driver Danica Patrick crashed her green car in the second lap of the Daytona 500 at Florida's Daytona International Speedway Monday night.
"I would have loved to have run up there. I would have loved to have got the experience when you actually were racing for positions as opposed to just feeling it out," a forlorn Patrick told the AP following the race. "But I truly believe everything happens for a reason."
Article continues below advertisement
The crash also involved huge NASCAR names such as Jimmie Johnson, Kurt Busch and Elliott Sadler.
Sports Anchor Apologizes To NASCAR Driver Danica Patrick For Sexist Tirade
"I mean, I was pretty speechless," Patrick, 29, said. "I didn't really know what to say. I just pretty much kept my mouth shut and just sat there. Just breathe."
Thankfully, Patrick did not appear to suffer any injuries in the motor melee, though she did absorb some lessons of the craft for her next go-round.
Watch the video on RadarOnline.com
"I'm sure this is not new territory for a new driver," Patrick said. "I just wish it could have gone better for everybody that was so excited, especially the fans. It was great to see them cheering all around the track."
The race was scheduled for Sunday, but was delayed a day due to rain.