Exclusive
Jeremy Lin Chinese Racial Slur Causes Outrage, 'It's As Bad As The N Word'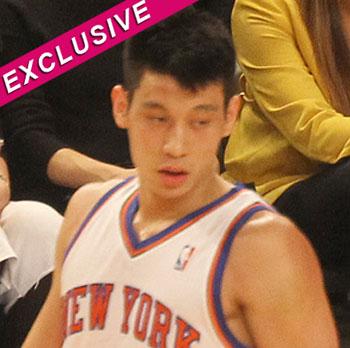 By Debbie Emery - Radar Reporter
New York Knicks star Jeremy Lin has taken the sports world by storm, but sadly a racial slur made by an ESPN writer has made almost as extreme an impact for all the wrong reasons, and RadarOnline.com has exclusively learned that Taiwanese-Americans are outraged that the highly offensive comment even made the airwaves.
As RadarOnline.com previously reported, the phrase a "chink in the armor" was used to describe the 6'3" American-born NBA player, born of Taiwanese parents. The writer who penned the slur was fired, ESPN announced on Sunday, and anchor Max Bretos who said the phrase was suspended for 30 days.
Article continues below advertisement
"I am very disappointed in the fact that those types of comments were made by such a renowned organization as ESPN, especially one that takes pride in being the voice of world-wide sport," Teddy Liaw of the Taiwanese-American Citizens League told RadarOnline.com in an exclusive interview.
"That they would have a person on their staff that would use that word is completely unacceptable. The fact that they dealt with it I commend, but it should not have happened to begin with," he said, and still believes the sports network could have done much more.
In addition to the on-air slur, the headline: "Chink in the Armor: Jeremy Lin's 9 Turnovers Cost Knicks in Streak-stopping Loss to Hornets" was posted on ESPN's mobile site for about a half hour early Saturday morning before it was removed.
"There are certain words that are unacceptable to use, that word is well known not to use with the Asian-American community," Laiw explained. "I think the good thing is that we are actually having this conversation, but it is sad that you have to have it."
Article continues below advertisement
The offending writer, Anthony Federico, has since apologized for his mistake, telling the New York Daily News, "This had nothing to do with me being cute or punny. I'm so sorry that I offended people. I'm so sorry if I offended Jeremy." He also said he had used the phrase hundreds of times before and not caused offense.
"To claim ignorance or to say they have used it before is not an excuse," Laiw responded.
He went on to explain that despite the incident being flung into the media spotlight, many staff at ESPN still don't understand the importance of the issue. 
"I was also disappointed today that ESPN had a segment with NBA analyst Steven A. Smith (who is African-American) discussing the race issue specifically in relation to the recent ESPN event.
"Smith deflected the conversation and turned it into being about the African-American community, and then went on a tirade about people making honest mistakes and inferred that America is being over-sensitive."
Article continues below advertisement
Liaw pointed out that using the "C word" to describe Asian-Americans is equal to using  the "N word" when talking about African-Americans. "This is the most offensive word to our community and that they do not understand that is even more discouraging," he said. "Smith seemed oblivious to how offensive it is."
Many in the Taiwanese-American community aren't satisfied with the wrist-slapping that veteran anchor Bretos received either. "I don't think the anchor got adequate punishment. It shows there is a priority of what you can and cannot say.
"Let's replace the 'C word' with the 'N word' in every scenario and ask if it would be fair - he would never have read that. You just don't say it publicly."
Racial prejudice against 23-year-old Lin has been going on long before he became a phenomenon over recent weeks, explained Laiw.
While a senior at Palo Alto high school, Lin won the California state championship, and was named Northern Cal high school player of the year, Mr. Basketball and the MVP, but despite his success he was shunned by recruiters, resulting in him attending Ivy League school Harvard.
Article continues below advertisement
"He is probably the only player with that level of success who didn't get a scholarship for a top division basketball programs," said Laiw. "He was then overlooked in the NBA draft because he went to Harvard and not a basketball school."
Now that Linsanity has captured the attention of the world - not just America - fans in China are embracing Jeremy's success, causing many people to wrongly think he is Chinese. Lin was actually born in Los Angeles, and he grew up in Palo Alto, California, to Taiwanese parents Gie-Ming and Shirley, who had emigrated to the U.S. in the 1970s.
"It is offensive to call him Chinese. Clearly it is another case of China trying to take credit for a product that is not theirs," said Laiw.
"Taiwan is its own country, his uncle has publically stated that Jeremy is Taiwanese-American. His ancestors have been in Taiwan for over 150 years, and his family is very proud of their heritage," he explains.
"We support him and we wish that the world would recognize him as Taiwanese-American. It is total ignorance, and shows the lack of awareness on the part of many people."
Article continues below advertisement
Laiw ended on a positive note though, explaining how the community is rallying around the breakout star. "Lin is great for Asian-Americans, no point guard has strung together seven or eight starts like this, no matter what race they are, so he deserves all of the awesome accolades that he is getting and we are very proud of him."
RELATED STORIES:
It's Linsanity! Beyonce & Jay-Z Step Out For First Time As Couple Since She Gave Birth