It's Linsanity! Seven Things You Didn't Know About NBA Player Jeremy Lin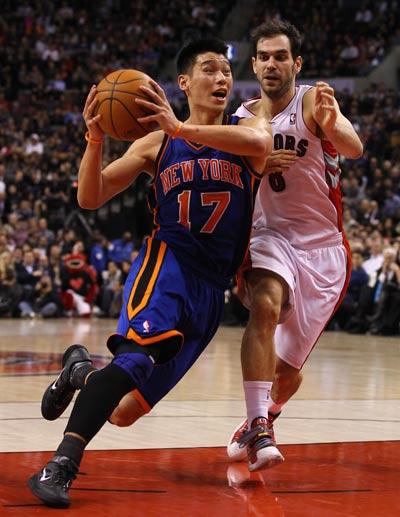 By Debbie Emery - RadarOnline.com Reporter
There's a new phenomena capturing the attention of New York sports fans, and he doesn't play for the Super Bowl winning New York Giants.
After starting just six games for the New York Knicks, NBA point guard 6'3" Jeremy Lin is taking the Big Apple by storm , and now even fans for the opposing teams are cheering him on!
Dubbed the ultimate sporting Cinderella story -- or Rudy, after the classic football film -- 23-year-old Lin led the Knicks to yet another win on Tuesday night, and won the heart of New York during a Valentine's Day victory over the Toronto Raptors when he hit a 3-point shot with just a second to play, making his total points for the game an impressive 27.
Article continues below advertisement
In light of the new miracle on the court, RadarOnline.com has compiled 7 things you might not know about Linsanity.
7. Jeremy Shu-How Lin was born in Los Angeles, and he grew up in Palo Alto, California, to Taiwanese parents Gie-Ming and Shirley, who had emigrated to the US in the 1970s. His 5'6" father was determined for her sons to enjoy the best of American sports and taught Jeremy and his brothers, Josh and Joseph basketball at the local YMCA.
6. He was a high school star! Lin led his Palo Alto High School basketball team to a state championship and ended his senior year averaging 15.1 points, 7.1 assists, 6.2 rebounds and 5.0 steals.
5. Jeremy is no dumb jock! Despite his success as a teen, Lin was shunned by most serious basketball schools so he attended prestigious Ivy League school, Harvard, where he led the Crimson in scoring in his senior year and was selected for the All-Ivy League First Team. Along with countless wins on the court under his belt, Lin graduated from the school that Facebook founder Mark Zuckerberg dropped out of with a degree in economics and a 3.1 grade point average in 2010.
Article continues below advertisement
4. Lin entered the NBA draft only again to be ignored by team recruiters and despite doing tryouts for some teams, he remained undrafted. He eventually signed with the Golden State Warriors, who are conveniently based near his home in Northern California, and developed a cult following among Asian-Americans in the San Francisco Bay area but never really caught the attention of the coaches and was let go on the first day of training camp last December following the disruptive NBA lockout.
3. Golden State's loss turned out to be New York's unexpected gain, when the Knicks claimed Lin from waivers on December 27 to make up for injured players, including fellow Californian, Baron Davis. Lin nearly got let go yet again in February so the team could sign a new player, but then he suddenly bolted out of the locker room to light up Madison Square Garden – and the rest is now sporting history! On February 4, he 25 points, five rebounds, and seven assists over a win against local rivals, the New Jersey Nets.
Article continues below advertisement
2. In his first ever career start against the Utah Jazz, Lin scored another whopping 28 points and eight assists. After his Valentine's Day victory to bring the Knicks back after being down 11 points earlier in the game, Jeremy broke NBA legend and former Los Angeles Laker Shaquille O'Neal's record for the most points in his first five games as a starter, having scored 131 points.
1. With hundreds of fans coming to games waving 'Linsanity' banners, one smart investor now wants to patent the name to jump onto Lin's winning streak. Yenchin Chang, a 35-year-old Alhambra, California, resident has filed a trademark application for the term. The trademark will cover goods and services, including t-shirts and hats, which is a savvy move considering Lin's jersey has the NBA's top online seller since February 4. The money machine doesn't stop with clothing, a Lin autograph on Ebay, once $29 now goes for $1,500, and according to Forbes, Lin is now the fastest growing athletic brand at $14 million and climbing.