Suspended ESPN Anchor Defends Himself For Jeremy Lin Gaffe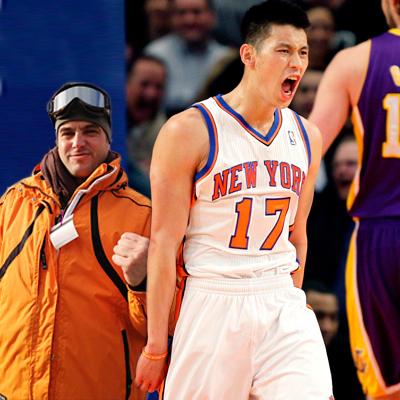 ESPN anchor Max Bretos, suspended for 30 days after repeating an offensive phrase a writer for the sports outlet posted online regarding New York Knicks breakout Jeremy Lin, has taken to Twitter to defend himself.
"My wife is Asian, would never intentionally say anything to disrespect her and that community," Bretos tweeted over the weekend. "Wanted 2 apologize 2 all those I have upset. Not done with any racial reference. Despite intention, phrase was inappropriate in this context."
Article continues below advertisement
Shaquille O'Neal's Girlfriend Can't Measure Up!
As we previously reported, ESPN writer Anthony Federico got the boot after posting the headline "Chink in the Armor" to the outlet's mobile site after Lin committed an unsightly 9 turnovers in Friday's loss to New Orleans.
Federico told the New York Daily News of the gaffe: "This had nothing to do with me being cute or punny. I'm so sorry that I offended people. I'm so sorry if I offended Jeremy."
It's Linsanity! Seven Things You Didn't Know About NBA Player Jeremy Lin
The 6-foot-3 Lin, 23, is the Association's first-ever American-born player of Taiwanese descent. Asked for comment Sunday, the overnight sensation was forgiving of the outlet for the offensive comments.
"I don't think it was on purpose or whatever, but at the same time they have apologized," the point guard said. "And so from my end I don't care anymore. Have to learn to forgive, and I don't even think that was intentional. Or hopefully not."