Sports Anchor Apologizes To NASCAR Driver Danica Patrick For Sexist Tirade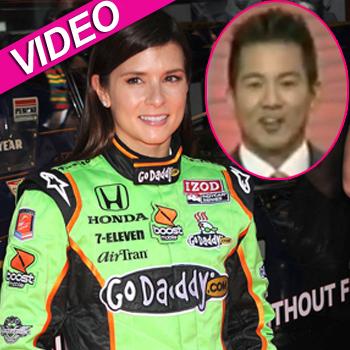 Article continues below advertisement
The incident in question aired live on the Fox affiliate KSWB last week when Shimabuku was talking about the GoDaddy.com spokeswoman's debut in the Sprint Cup at the rain-delayed Daytona 500 and comments she had made about female athletes always being described as "sexy."
He then came up with an alternative description for the brunette: "Oh, I've got a few words… Starts with a 'B', and it's not 'beautiful,'" he snipped nastily.
In his introduction to the piece, Shimabuku said sarcastically: "Danica Patrick is such a pretty girl," who makes a lot of "money in sponsorships because of it. But what's not attractive is that she's sexy and she knows it."
He ended his insulting segment with one last jab, saying the 29-year-old former IndyCar driver "always has a chip on her shoulder, trying to prove something."
The sportscaster's colleagues clearly didn't agree with him, as anchor Kathleen Bade stuck up for Patrick: "Well, she's a woman trying to break into a man's world," she said adamantly. "That cannot be easy."
Article continues below advertisement
After being bombarded by e-mails in response to his sexism, Shimabuku's apology four days later seemed a lot less heart-felt than his initial verbal attack.
"I truly apologize if I offended anyone by those comments," he said. "It was not meant to be an attack on Danica, I've worked with her before in Phoenix. I think she's great for the sport."
The Fox sports reporter's sexist comments come hot on the heels of the racist slur against New York Knicks star player Jeremy Lin, when an ESPN writer described his performance in his team's recent loss as "a chink in the armor."
Suspended ESPN Anchor Defends Himself For Jeremy Lin Gaffe