Kim Kardashian Gets Punk'd By Ashton Kutcher & Scott Disick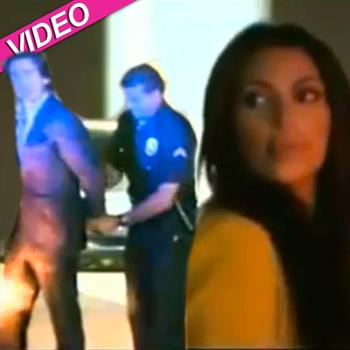 Article continues below advertisement
The drama begins with the pair stopping at a gas station. Scott gets out of the car and starts to pump while Kim is in the car texting. A so called fan approaches him and asks for a picture. He wants Kim to see him, but she's so preoccupied with being on her phone that she doesn't notice him, so while Scott goes inside the gas station, the "fan" taps on the window where Kim is sitting to tell her how much he loves her. He asks for a pic and she takes one with him. The guy walks away and Scott comes out. He realizes he doesn't have his wallet and thinks the fan stole it. He's raging mad and wants to chase him down.
Kim, confused by what's happening, tells him to get in the car and Scott angrily drives off in search of the culprit. He's in such a hurry he forgets to take the gas nozzle out of his car and as he exits the station, a huge explosion happens and cops rush to the scene.
Scott becomes more upset at this point and when police handcuff him, he's freaking out. Kim, oddly remains dead calm and seems unable to process what's going on around her. The fan reappears and she asks him for the wallet. He says he doesn't have it and Kim just smiles and asks if he's sure.
Article continues below advertisement
As she goes back in the car to call her family to tell them about Scott being arrested, the cops find the wallet which was in the car the entire time. Kim apologizes to the man and continues her phone conservation.
After a lot of yelling and screaming takes place, mostly by Scott and the cops, Ashton finally comes out and Kim cracks up realizing she's just been Punk'd!
RELATED STORIES:
Kris Humphries Won't Date Until Divorce To Kim Kardashian Is Finalized