Happy (And Tearful!) Homecoming! 10-Year-Old Boy Surprised By Soldier Dad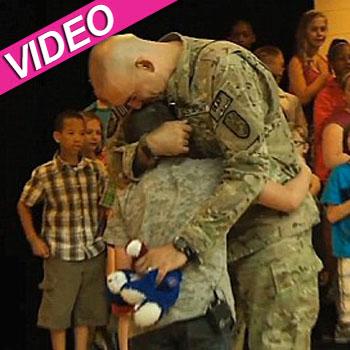 By Debbie Emery - Radar Reporter
A 10-year-old boy can be forgiven for forgetting the words of the Pledge of Allegiance when he got a huge surprise during his nerve-wracking performance.
Christopher Bratic of Grand Blanc, Michigan, burst into tears in the middle of the patriotic rendition when the father who he thought was fighting in Afghanistan walked into the school assembly hall and hugged him, reported Michigan Live, and RadarOnline.com has the heartwarming video.
Article continues below advertisement
The little boy has spent almost a year wearing a camouflage tee-shirt to class to honor his serviceman dad, Staff Sergeant Luis Bratic, but on Thursday he was back in his arms again after months of only sporadic online chats on Skype. "He talks about it every day," revealed Mason Elementary Principal Sonya James.
Like a true little soldier, Christopher had started the Pledge with his eyes on his flag and his hand on his heart and had reached the line about liberty and justice for all when he looked up to see his dad stood in front of him holding a red, white and blue teddy bear.
"I just want to grab him like a little pillow," gushed Staff Sergeant Bratic. "Kiss him and squeeze him."
As for his son, he admitted he was "really surprised," and couldn't wait to get home to play Playstation with his dad and go see The Avengers.
A veteran with 19 years in the military, Bratic has done three tours overseas and was most recently stationed in Kabul.
RELATED STORIES: