David Letterman Honors Medal Of Honor Winner Who Lost Hand In War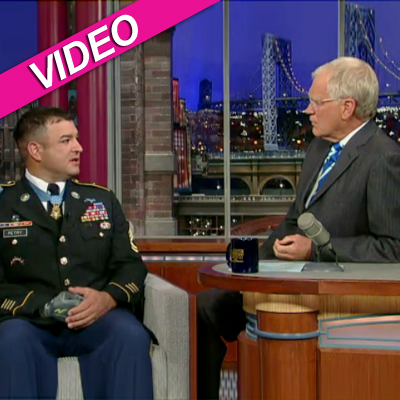 Over the years, there have been many memorable moments on The Late Show with David Letterman -- Drew Barrymore dancing atop Dave's desk and flashing him, an estranged Sonny & Cher reuniting to sing "I've Got You Babe," and Joaquin Phoenix's bizarre appearance, to name just a few.
But we've never seen anything like this.
With the tenth anniversary of 9/11 just days away, the New York-based talk show host on Wednesday welcomed Sergeant 1st Class Leroy Petry -- one of only two servicemen to Medal of Honor for their service in Afghanistan -- to describe the selfless moments that earned him the prestigious honor July 12 from President Barack Obama.
Article continues below advertisement
Brad Pitt Is A Real-Life Superhero!
The Santa Fe, New Mexico-born Petry -- one of 84 living recipients of the honor -- said he was in pre-Ranger training on the morning of September 11, 2001 and remembered asking his instructors if he could watch the unfolding events that day.
His instructors would fatefully tell him, "You need to get your butts back in there and keep training -- you might be going to war soon."
Petry told Letterman he was first deployed to Afghanistan in 2002, with the tough task of rounding up high-value targets (high-ranking enemy suspects).
"It's usually capture-kill ... you try to do the best to capture them but normally, the targets we go after are hostile and have a lot of firepower with them ... it gets pretty nasty," Petry said.
Petry told Letterman military men need to be able to adjust as "there are no easy missions," which moved the talk show host, who said the quote would stick with him for the rest of his life.
Article continues below advertisement
"I guess in war," Letterman said, "there are no slow days."
Watch the video on RadarOnline.com
"It's a risk every day you're over there," Petry said.
Petry described to Letterman, in detail, the circumstances behind the May 26, 2008 combat mission in which he lost his right hand but continued to lead the troops.
Petry said that about 65 troops were on the mission to invade a compound, and they began under fire from two enemies with AK-47s from the moment it began. Within moments, he said, shots struck him and a fellow soldier. Hiding behind a chicken coop, he said he thought he'd only been shot in his leg, though he found out later out the bullet had penetrated both of his thighs.
In addition to the storm of gunfire, both sides began exchanging grenades, Petry said, noting that despite his injuries, he kept his cool and remained on his radio communicating with his commanders.
"At that point, I turn to check on my guys, and I see pineapple grenades ... I immediately knew what I had to do -- I grabbed it to get it away from me and my guys," Petry said. "As I was throwing it, my hand opened up, and it completely amputated the hand at the wrist."
Article continues below advertisement
Petry said he could see his radius and ulna poking out of his wrist "about a quarter of an inch," at which point he put on a tourniquet and continued corresponding with his commanders.
Despite losing his hand in the firefight, Petry said he considered the mission a successful one.
After the amazing tale of bravery, Petry showed the talk show host his state-of-the-art prosthetic hand, which he described as "pretty much like a normal hand.
"It works off the same muscles I'd use to open and close my hand," he said.
"That's amazing for an amazing man," Letterman said.
It was a big day for the courageous military man, who also took the mound at Yankees Stadium to throw out the ceremonial first pitch on Wednesday.
Letterman asked Petry, a father-of-four, how he'd feel if one of his children came to him and told him they'd like to be in the military.