Zooey Deschanel To Play Loretta Lynn On Broadway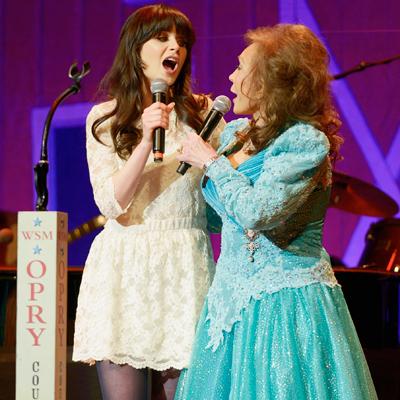 The Coal Miner's Daughter is coming to Broadway as a new musical -- and Zooey Deschanel is going to play her!
Legendary country singer Loretta Lynn made the announcement Thursday night during a Grand Ol Opry performance at the Ryman Auditorium in Nashville, TN, and she did it much in the same way she announced thirty three years ago that Sissy Spacek would play her in the film version of her beloved autobiography, The Coal Miner's Daughter.
Article continues below advertisement
Prior to dropping the news, Lynn, 80, sang four songs before bringing the Grammy nominated Deschanel, 32, onstage to sing her signature song.
The announcement called to mind when Lynn invited Spacek onto the Opry stage back in 1979 to reveal that the Carrie star would portray her in the upcoming film, which would win Spacek a Best Actress Oscar.
"I have a friend here tonight. I don't know if ya'll remember when Sissy Spacek was with me. I brought her out here with me. She about fainted. We both fainted," Lynn said laughingly. "She went on to do the 'Coal Miner's Daughter,' and you know from there. Well, there's a little girl back stage that's going to do the play of `Coal Miner's Daughter' on Broadway," Lynn continued. "Zooey, where you at honey?"
Deschanel then walked onto the stage and took Lynn's hand with a wide smile.
Emily Deschanel Dishes On Her Pregnancy Cravings!
"Are you going to help me sing `Coal Miner's Daughter'?" asked Lynn.
"I'm going to help you sing," said Deschanel. "This is a great honor for me. This is my hero."
The two traded verses, and as the music faded at the end, Lynn said to the crowd, "Don't forget her name. Her name is Zooey."
Article continues below advertisement