New Girl's New Guy: Lamorne Morris Replaces Damon Wayans, Jr.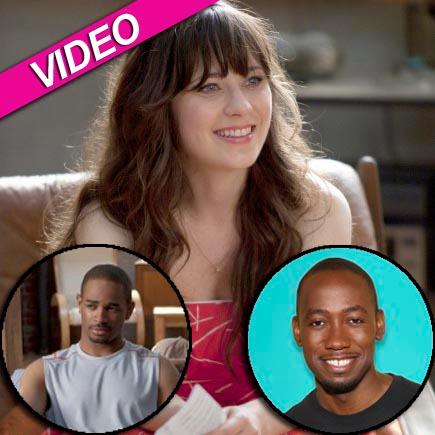 RadarOnline.com Senior News Director
It isn't exactly on the level of when they switched Durwoods (sorry, Darrins) on us during the sixth season of Bewitched, but still…
Fans of the new Fox sitcom New Girl, starring Zooey Deschanel, may have been surprised Tuesday night when Damon Wayans, Jr. was suddenly gone after only one episode and replaced by Lamorne Morris.
TV insiders knew the change was coming, but in case you didn't, here's the inside scoop.
Article continues below advertisement
On the pilot for New Girl, the very funny Wayans played Coach, one of Zooey's three male roommates she meets on Craigslist after breaking up with her cheating boyfriend. The problem was -- Wayans was also committed to ABC's Happy Endings, which was recently picked up for a second season after he shot the pilot for New Girl.
Wayans had taped the entire 13-episode first season of Happy Endings -- which also stars Elisha Cuthbert, Casey Wilson, Eliza Coupe, Zachary Knighton, and Adam Pally -- but the show waited and waited for a premiere date. Meanwhile, not knowing if Happy Endings had a future, Wayans got cast in the New Girl pilot.
When the first season of Happy Endings finally aired last spring, it was a surprise hit and a second season was ordered.
The only problem -- the pilot for New Girl was well received, too, and a first season was ordered by Fox.
"Happy Endings was the first TV show I ever auditioned for, and New Girl was my second," Wayans, 29, told the Toronto Sun. "So I didn't really know the protocol.
"But I was contractually obligated to Happy Endings. So no matter what, if Happy Endings got picked up, that's where I was going to be."
Article continues below advertisement
The creators of New Girl liked the pilot so much that they decided to leave Wayans in it for the premiere episode.
Rather than recast and reshoot the pilot, Morris joined New Girl in its second episode. Morris plays Winston, a competitive former athlete who has realized he'll never go pro and moves into the loft shared with the hilarious Max Greenfield and Jake Johnson, as well as the lovely Deschanel.
As for Wayans, he told the Toronto Sun, he's focused now on Happy Endings.
"Our show has very current jokes, it's a very youthful comedy," Wayans said. "And on top of that we're allowed to improvise so much.
"So basically you just mix that together and you get the feeling of it being a little raw when you watch it. You don't really know where the laugh is going to come from."
Happy Endings kicks off its second season Wednesday, Sept. 28 on ABC; New Girl airs Tuesdays at 9/8c on Fox.
This is the pilot featuring Damon Wayans, Jr.