Karmin Dishes On SNL Performance And Zooey Deschanel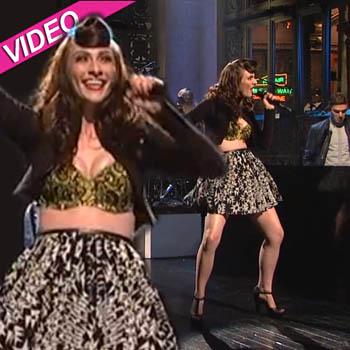 By Alexis Tereszcuk - Radar Senior Reporter
Saturday Night Live is the place to be for musical acts and the latest group to perform rocked the stage and had a blast doing so!
"It was one of the most amazing nights of our career, so far," Amy Heidemann, one half of the pop band Karmin, told OK! magazine at the Betsey Johnson Fall 2012 fashion show in NYC Tuesday night. "It was amazing," added her partner Nick Noonan.
Article continues below advertisement
The engaged duo rocked the stage as they sang their new singles, Brokenhearted and I Told You So, which are both on their debut album, which will be released in April, and said they loved being on SNL with host Zooey Deschanel.
"It was a great episode too!" Nick said. "I thought Zooey killed it. The skits were really funny. It was a great show."
Amy said she's a big fan of The New Girl star.
"We decided we're long-lost sisters!"
But, let's be honest, their appearance made the night that much better, and the SNL cast couldn't have been more supportive to the hot new rockers.
"The cast could not have been nicer," Nick told Billboard.com "Kristin Wiig is actually the nicest person in the world. And everybody, Jason Sudeikis, Seth Meyers, all those guys could not have been more supportive."
Check out a clip of their performance below and listen to their song Brokenhearted.