Emily Deschanel Dishes On Her Pregnancy Cravings!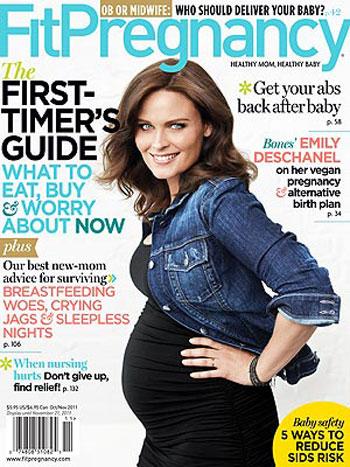 Zooey Deschanel's older sister Emily bares her baby bump on the cover of Fit Pregnancy's October/November 2011 issue!
The Bones babe dishes on her baby bump, her pregnancy cravings and how she plans to raise her first child in an extensive interview - and RadarOnline.com has the highlights.
Though not all her pregnancy cravings have been healthy, her number one obsession may come as a surprise - Lemonade!
Article continues below advertisement
"I want it all the time," she reveals. "That and grapefruit. Those cravings I indulge. But I also crave chocolate all the time, and try and ignore that."
Emily, who is due this Fall, has been doing spinning and yoga to stay in shape during her pregnancy.
The actress, who is totally vegan, reveals that she will "absolutely" breastfeed.
"For a year, maybe longer," she says. "I'm a total hippie, so we will co-sleep and breastfeed."
And as for her birthing plans, the actress and her husband, David Hornsby, plan on delivering the baby through a natural approach.
"We have been taking HypnoBirthing classes, and I plan to do that," she maintains. "David will be with me, and also a doula."
To read all about Emily's pregnancy and how she plans on raising her baby, pick up a copy of the October/November 2011 issue of Fit Pregnancy or click here.