'Exorcist Style' Dancer Steals The Show In SYTYCD Premiere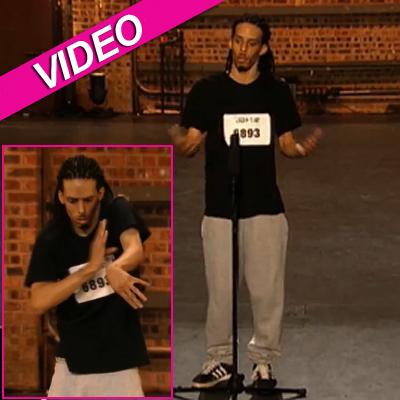 So You Think You Can Dance's ninth season kicked off on Fox Thursday night, and hopeful Hampton Williams was an early standout with an "Exorcist Style" routine praised by show head Nigel Lythgoe as a genius display.
The two-hour broadcast included highlights from the show's Dallas and New York auditions.
In Big D, Williams amazed with his limber routine -- as for the "Exorcist Style," Williams claimed he was going to absorb the crowd's pain and fear and "cleanse" them via his performance.
Article continues below advertisement
Williams thrived, getting a standing ovation, with judge/executive producer Nigel telling him, "You are an artist -- I think you could be a genius.
"How you will get on in a dance comp like this show -- I don't give a sh*t, to be honest with you. Whether they say, 'Yes or no,' you're going to go to Vegas because I'll pay for it myself."
From the New York try-outs, Amelia Rowe's vintage 1920s performance was acclaimed, while Shafeek Westbrook's amazing moves prompted Nigel to joke, "I wasn't sure what he was going to balance on next."
Watch the video on RadarOnline.com
In a new twist, we learned that the show will have two winners named, a male and a female.
Nigel tells E!: "We are changing it up … it's something that we wonder why we didn't do it in the first place. We should have done it years ago! Each one brings something different to the table. We can split up the numbers and have America vote for their favorite guy and girl, so why not do it?"