Exclusive
Ace Young Proposed To Diana DeGarmo With $12,000 Ring!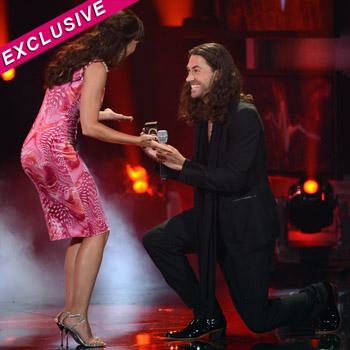 Article continues below advertisement
"We have conquered Broadway together, we have created new music together, we have an amazing group of people around us and, with the help of David Webb jewelry I have a way to make this fun last forever," he said while down on one knee.
"I love you to death. You're my best friend. I want to make this last forever and I will do anything in my power to have the most amazing life together if you will have me. Diana Nicole DeGarmo, will you marry me?"
The teary-eyed singer happily accepted and told Ace, "I'm so speechless right now. Wow, babe, you picked a good one! My makeup's running!"
American Idol winner Phillip Phillips exclusively told RadarOnline.com that winning was "unreal, it hasn't sunk in yet. It's such a blessing."
Phillips said he didn't believe he would ever be the winner.
"Honestly I didn't think I would make it to the judges…I am the first to admit I can't sing, I am just one who likes having fun on stage," he said.