Ace Young's Proposal Included Product Placement For Jeweler!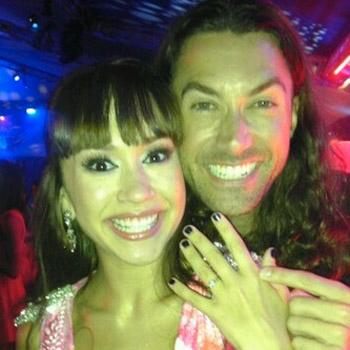 By David Perel - Executive Vice President/Managing Editor RadarOnline.com
Romance isn't dead -- it's just sponsored.
Ace Young and American Idol proved that Wednesday night as they teamed up to create an "awwwww" live TV moment with the Idol alum dropping to one knee and putting a .95 carat fancy yellow diamond ring on Diana DeGarmo's finger.
On American Idol, where product placement sponsorships are a perfectly executed art form, even this life-changing moment had a corporate sponsor!
Article continues below advertisement
"We have conquered Broadway together, we have created new music together, we have an amazing group of people around us and, with the help of David Webb jewelry, I have a way to make this fun last forever," Young said, as DeGarmo shook in anticipation.
That's right folks, this proposal of enduring love was brought to you by David Webb jewelry! (No word yet if Ace received the ring for free but let's take a really wild guess here and assume he didn't slip in the jeweler's name without a financial incentive. In fact, when RadarOnline.com called David Webb jewelry Thursday morning to ask how much Ace paid for the ring, they said they would call us back.)
Now we can only wonder if DeGarmo and Young decide to have a baby will she break the news to him by saying: "Ace, you've brought unimaginable joy into my life, and now Pampers and I want you to know we're having a baby!"