'Idol' Winner Phillip Phillips Meeting With Docs, Schedules Surgery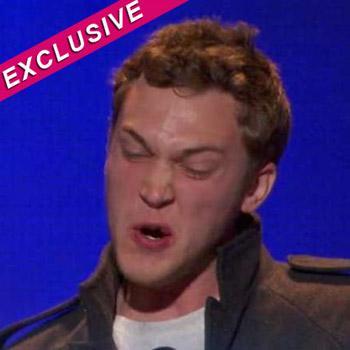 He's endured a grueling competition to become the new American Idol but now Phillip Phillips has another obstacle to hurdle: he's scheduled to have surgery, RadarOnline.com has learned.
The 11th 'Idol' winner has been suffering from kidney stones throughout the competition and a family friend tells RadarOnline.com that instead of taking a victory lap, Phillip is heading to the operating room.
Article continues below advertisement
Les Sherwood, who runs the family's pawn shop, says that Phillips has been in a lot of pain and discomfort while performing for his adoring fans but is being positive about his ordeal.
"Phillip is doing really good," Sherwood told us. "He's meeting with surgeons next week and is going to have the operation soon."
Sherwood, like most of America, is a huge fan of the new champ.
"I love him to pieces – I've known him his whole life," Sherwood told RadarOnline.com. "He's been getting past the pain through prayer and good doctors.
"His family is handling it well as they know he's in no danger. We're all really proud of him."
As RadarOnline.com previously reported, Phillip's mother Sheryl said that her son has been in "pain the whole time" he's been singing on the famous stage.
On the Wednesday finale, former AI contestant Ace Young proposed to Diana DeGarmo with a .95 carat yellow diamond. But Sherwood says that Phillip, 21, will not be getting down on bended knee to girlfriend Hannah Blackwell anytime soon.