Exclusive
Another RHONJ Feud! Dina Manzo 'Blindsided' By Teresa Giudice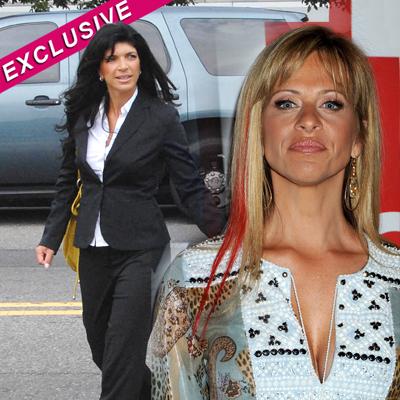 Radar Entertainment Editor
There is never a shortage of drama with The Real Housewives of New Jersey, and RadarOnline.com has exclusively learned that there is a brand new feud brewing between Teresa Giudice and her best friend and former co-star Dina Manzo!
Even though Dina left the show in 2010 she and Teresa have stayed close, but Teresa's recent actions have started raising flags about the status of their friendship.
Article continues below advertisement
"Dina founded a charity called Project Ladybug that helps children with cancer and when Teresa was on Celebrity Apprentice she was hoping that the charity she would choose to promote would be hers, but she picked another one, and Dina was very disappointed that Teresa didn't pick hers," Housewives friend Tom Murro exclusively told RadarOnline.com.
"Teresa led Dina to believe that she was going to use her charity on the show, and Dina was blindsided when hers wasn't chosen," Tom said.
The outspoken Bravo reality star said recently that being on a reality show has ruined her friendships with Jacqueline Laurita, Melissa Gorga and Caroline Manzo, but Teresa might be surprised to know the one woman she considered a friend is fuming about her slight.
"Dina is not happy that her long time friend Teresa chose another charity but she isn't going to publicly say anything."
Teresa had a long run on Donald Trump's hit reality show, which Arsenio Hall ultimately won, but instead of playing for her best friend's charity she chose NephCure, an organization that tries to help find a cure for the kids and adults with kidney disease. She spoke about her choice in an interview, saying: "I really wanted one that wasn't already well-known, that didn't have millions of dollars."
Article continues below advertisement