Plastic Surgery-Free And Sexy! The 10 Best Real & Big Boobs In Hollywood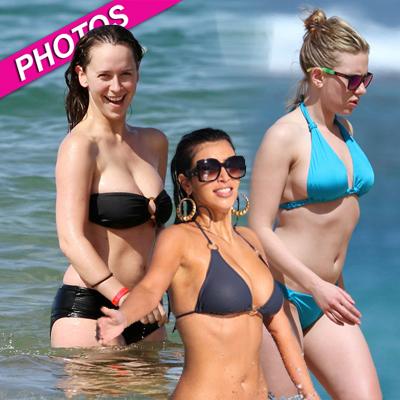 Not all stars have to get plastic surgery to look boobilicious!
Tons of Hollywood stars head to the plastic surgeon's office to amp up their bust size, but not these smokin' hot bikini babes. Boasting naturally big and beautiful breasts, they love flaunting their assets in the skimpiest of swimsuits. From reality stars to big screen bombshells, RadarOnline.com has photos of the 10 best real and big boobs in Hollywood.
Article continues below advertisement
Kim Kardashian has one of the most talked about tushes in Tinseltown, as well as a pair of perfectly large breasts. Though the reality show star has copped to getting Botox, she swears that her impressive assets are 100% real.
Scarlett Johansson wasn't just blessed with acting chops at birth! The crazily curved star was also given breasts to-die-for, which she loves to show off on the shoreline.
Christina Hendricks has some of the biggest knockers on television! The Mad Men star has gotten herself in trouble with fashion critics for showing them off on the red carpet in low-cut dresses, but don't ask her if they are fake – they are totally real according the boobiful beauty.
Christina isn't the only prime time hottie with impressive assets! Modern Family star Sofia Vergara is also hailed for her terrific twins.
And when it comes to sexy singers, Jessica Simpson and Katy Perry love showing off their gorgeous girls in skimpy styles on the stage. And guess what? They are real.
For the rest of the best big and real boobs in Hollywood, click here .