Exclusive
Lindsay Lohan Assault Investigation Almost Complete, Source Says There's Compelling Evidence To Charge LiLo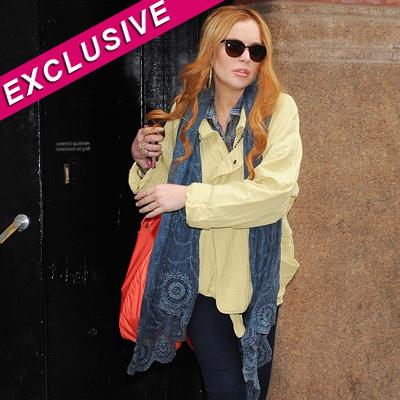 RadarOnline.com Assistant Managing Editor
The Los Angeles District Attorney's Office hasn't received the Lindsay Lohan assault case yet, but detectives are wrapping up the investigation, and sources connected to the case tell RadarOnline.com exclusively that there is enough "compelling evidence" to charge the embattled actress.
As we previously reported, detectives from the Los Angeles County Sheriff's Department have received the surveillance video from the Standard hotel on the night in question and it clearly shows Lohan at the club, despite her claims that she was not there. Lindsay is being investigated for allegedly assaulting Marisa Dugas several weeks ago. The actress vehemently denied being out that night, claiming she was at home watching television when the incident allegedly occurred, even though three people -- including the accuser -- have filed police reports.
Article continues below advertisement
"There is enough compelling evidence to charge Lindsay with assault as investigators have three very solid and credible witnesses, including the alleged victim," a source close to the situation tells RadarOnline.com.
"Investigators wanted to talk to Lindsay but she wasn't made available for an interview, which she was under no obligation to do. Lindsay's attorney has been in contact with detectives so it's not like her camp isn't taking this seriously, they absolutely are. Her advisers just don't think it's in Lindsay's best interest to be interviewed regarding this investigation. Lindsay remains on informal probation for her necklace theft case, and if she is charged, it's extremely likely that she will be sent back to jail."
Further bolstering the case against Lohan, the source says, is the fact that Dugas has absolutely no plans to sue the actress over the alleged assault, but only wants an apology. "My client, Marisa Dugas just wants Lindsay Lohan to publicly apologize to her for the assault, and be held responsible for her actions. I can definitively tell you that Marisa has absolutely no plans to sue Lindsay Lohan. Lindsay should be treated just like everyone else and not get any special treatment because she is a celebrity. Lindsay Lohan needs to stop lying about where she really was that night and grow up," Mark Haushalter, Dugas' attorney previously told RadarOnline.com.
Article continues below advertisement
Meanwhile, the alleged hit and run case also involving Lohan, will be referred by the LAPD to the Los Angeles District Attorney's Office shortly. Lohan, 25, was driving away from the Sayers Club in Hollywood almost two weeks ago in her new black Porsche when she says she was blocked by a horde of paparazzi and club patrons from the nearby Hookah Lounge. As Lindsay was trying to make a U-turn among the crowd at the late night hotspot, she allegedly hit Thaer Kamal and his car and then sped off. Kamal met with two LAPD detectives on April 17.
Kamal was interviewed by investigators from the LAPD for more than an hour, and his attorney, Mark Geragos, was present.
"Thaer gave an honest and accurate account of what happened to him that night," a source close to the situation tells RadarOnline.com. "He wants Lindsay to be held accountable for her actions. She shouldn't have driven away after hitting him, period. He doesn't want her to get away with it. Thaer feels that Lindsay's camp has bullied him by making up stories that he was being investigated for insurance fraud. He was steadfast in his conviction that he has never committed any crime and hasn't been investigated ever for fraud. Thaer is fearful for his family back in Iraq. He has done nothing wrong. He didn't break any laws. He served with the United States Army for six years and seven months and has a spotless record. He obeys all laws, and he wonders why Lindsay doesn't."