Exclusive
John Travolta Sex Accuser #2 To Former Lawyer: You Botched My Case!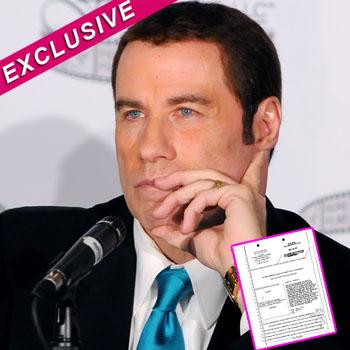 By Jen Heger - RadarOnline.com Assistant Managing Editor
John Truesdale, the Atlanta based masseur who filed a sexual battery lawsuit against John Travolta, has filed a sworn declaration asserting he was forced to fire Okorie Okorocha as his lawyer because he botched the case, RadarOnline.com is exclusively reporting.
As previously reported, Okorocha, who filed suit on behalf of two masseurs accusing Travolta of sexual assault, filed a lawsuit of his own against their new attorney, Gloria Allred, alleging that the famed civil rights attorney stole Truesdale as a client from him. Both men's lawsuits were subsequently dismissed after they fired Okorocha -- they are now being represented by Allred.
Article continues below advertisement
DOCUMENTS: John Truesdale Files Sworn Decaration
Allred has subsequently filed a lengthy motion to have Okorocha's lawsuit against her dismissed.
Truesdale claims that he contacted Allred to represent him after becoming dissatisfied with Okorocha's handling of the case and that she never solicited him as a client. "Mr. Okorocha caused the District Court Complaint to be filed without providing me an opportunity to review it for accuracy. That compalint alleges an incorrect date for the underlying event which gave rise to my claims," he says in his sworn declaration. "I was extremely unhappy with the error regarding that date...During that time, I saw Mr. Okorocha participate in numerous media interviews. I was very unhappy with the way Mr. Okorocha appeared to be using my dispute with Mr. Travolta in order to promote himself as a lawyer. By the second week of May 2012, I was extremely unhappy with Mr. Okorocha's representation and decided to switch attorneys....Based on my own concerns about Mr. Okorocha's handling of my case and without any contact from Gloria Allred or anyone else at Allred, Maroko & Goldberg, I decided to contact Gloria Allred to see if she and her firm would be willing to represent me."
Truesdale further states that he fired Okorocha on May 17, 2012 and sent him another letter on May 18, 2012 begging him to "stop talking about me, my case, my changing attorneys and everything and anything regarding my case immediately. I conacted Ms. Allred. She did not contact me. I sought her out because I was not satisfied with your representation and therefore decided to change attorneys. You should respect my decision."
Article continues below advertisement
One of Allred's legal assistants has also submitted a sworn declaration stating that she had answered a phone call from John Truesdale on May 16, 2012 and that she gave the message to her boss. Truesdale says this was the first time he contacted her.
Allred submitted her own declaration and said "I did not participate in any way in Mr. Truesdale's decision to call Allred, Maroko & Goldberg to seek representation. He contacted my firm without any solicitation from me or my firm."
A hearing has been scheduled for June 27, 2012, to determine if the lawsuit against Allred will be dismissed.
Allred sent the following statement to RadarOnline.com: "Yesterday we filed a motion to dismiss the lawsuit that Okorie Okorocha filed against me and my law firm, Allred, Maroko & Goldberg. In support of our motion to dismiss, we have filed declarations under oath verifying and corroborating that we did not solicit John Doe 2 as a client. These declarations totally support our position that Mr. Okorocha's lawsuit filed against us is completely without merit and should never have been filed.
Article continues below advertisement
The sworn declarations filed in support of our motion to dismiss include a declaration from John Doe 2 that he first contacted our office on May 16, 2012 by placing a telephone call and asking to speak to me and that we had not contacted him either directly or indirectly prior to that date. We also filed a declaration from our law firm's secretary, Mary Guluzza, who initially took the telephone call from John Doe 2 on May 16 asking to speak to me. We have also filed my declaration under oath that after Ms. Guluzza emailed me the message from John Doe 2, I returned John Doe 2's call later that same morning.
After Mr. Okorocha publicly stated that I had solicited John Doe 2 as a client, John Doe 2 notified Mr. Okorocha in writing that he was wrong and that it was exactly the opposite of what he had stated–that in fact, John Doe 2 contacted us and not the other way around. John Doe 2 further urged Mr. Okorocha to withdraw and retract his false statements about this law firm. Instead, Mr. Okorocha filed his lawsuit.
Article continues below advertisement
In our 36 years of law practice, we have never solicited a client and we did not solicit Mr. Doe 2 as a client. Indeed, we did not even know his identity nor have any contact information for him until he contacted our firm. In addition, we did not seek to learn his identity prior to his contacting us. Indeed, when John Doe 2 did contact our firm and left a message for me to call him back he did not identify himself as John Doe 2. Instead he used his real name, John Truesdale.
Given the facts and the law, we believe that it is truly outrageous that Mr. Okorocha has filed this lawsuit against us. We are looking forward to the court hearing in this matter and the Court's decision in this case.
RELATED STORIES:
John Travolta Sex Scandal: In Settlement Talks With One Accuser
Gloria Allred Files Motion To Dismiss Libel Lawsuit
Gloria Allred Meeting In Atlanta With John Travolta Sex Accuser