'We're Madly In Love!' Former Aide Recalls Revealing Run-In With John Edwards' Mistress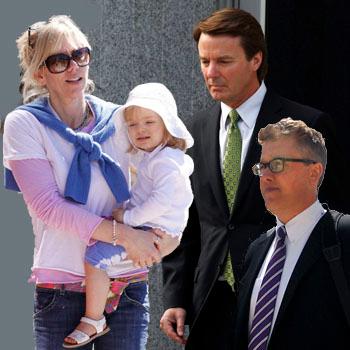 John Edwards' mistress Rielle Hunter told campaign aide John Davis that she and the senator were 'madly in love' after being caught near his hotel room, it was revealed during testimony Thursday.
But, just 48 hours later, Edwards told him that Hunter was 'crazy' and vehemently denied having an affair with her, despite the fact that he had never broached the issue, according to ABC News.
Article continues below advertisement
Davis, who was Edwards' "body man" (a close assistant who travels with a politician or candidate to handle a variety of tasks) as he campaigned for Democratic presidential nomination in 2006 and 2007, said the visit from Hunter took place on February 5, 2007, in Detroit.
At this point, Hunter's position as a videographer on the campaign had been terminated because Edwards' wife Elizabeth was suspicious about the nature of her relationship with her husband, so Davis admitted he was surprised to see Hunter on the senator's floor of the hotel.
Davis testified Thursday: "I would have preferred not to have seen her… I was concerned why she was there… I was suspicious they had maintained a relationship."
After the awkward meeting, Davis said he went to his room and called his wife to say he had seen Hunter. While he was on the phone, there was a knock at the door and when he opened, Hunter was standing there.
"She told me she and John Edwards were madly in love and he (Edwards) was concerned that I had seen her," Davis said. "I told her it was not my business... and I asked her to leave."
Article continues below advertisement
Davis then recalled that he called his wife back and told her: "You are really not going to believe this."
Davis claimed it was just before the campaign team left Detroit that Edwards brought up the encounter, calling him into a room to speak alone.
"He asked if I had run in to Miss Hunter. He (Edwards) told me she came to his room and told him she was going to go on Inside Edition or Access Hollywood to talk about her work for him. He told me she was crazy and to make sure she didn't contact him," Davis said.
"He denied there was an affair. He brought it up proactively," Davis told the court, admitting that he didn't bring up Hunter's confession.
The former aide added that Edwards would sometimes borrow his phone and keep it for long periods. He recalled that he once arrived at Edwards' room to get his phone back, but could hear Edwards and Hunter talking.
Davis recalled: "I heard Rielle Hunter on the speaker phone. I recognized her voice. I heard Mr. Edwards ask if she was showing yet."
Article continues below advertisement
Davis added that later in 2007 Edwards gave him a wrapped package and asked him to hold it. After several weeks, Edwards told him to get rid of the package, but he did not.
"I was very interested in what was in that package. I opened it up and inside the package was a telephone," Davis said, before adding that it was taken by investigators.
Edwards is charged with violating campaign finance laws by using more than $1 million from wealthy donors to hide his pregnant girlfriend and could face up to 30 years in prison if convicted.