Cancer Sufferer's Photos Banned By Facebook For Being 'Pornographic'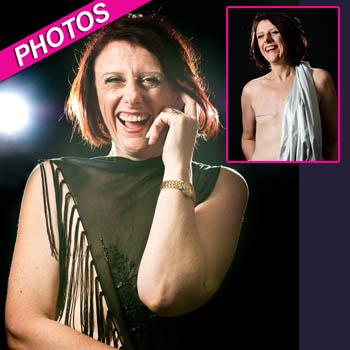 By Debbie Emery - RadarOnline.com Reporter
The negativity surrounding Facebook escalated Tuesday when it was revealed that the social networking site banned a breast cancer survivor's mastectomy photos because they were considered "too pornographic."
Joanne Jackson, 40, of Thornhill, West Yorkshire in England, posted the graphic images as an inspirational message to celebrate her combating the deadly disease, but Facebook removed pictures showing her operation scar because administrators thought they were offensive, reported the Mail Online.
Article continues below advertisement
The married mother-of-two was then warned that if she stepped out of line again and committed further "abusive" breaches of the site's rules then her account would be shut down.
As RadarOnline.com previously reported, last week the website threatened a mourning mother with the same fate when she posted photos of her severely deformed newborn baby taken during his brief eight hours of life.
"It felt like I had a slap in the face and made me upset," Heather Walker exclusively told RadarOnline.com, explaining that she was "frustrated and angry" when Facebook froze her page because they didn't approve of family photos of her son, Grayson, who was born with part of his brain and skull missing.
The latest victim of censorship is equally shocked by the website's actions. "There is nothing pornographic or explicit about these pictures. That was not the idea at all," said Jackson.
"I took breast cancer and the mastectomy in my stride and decided it wasn't going to stop me living my life. It wasn't going to define who I was, and it didn't make me any less attractive as a woman.
"My attitude was to just get on with it. I knew I could kick cancer's ass and I did."
Article continues below advertisement
Explaining that she is not shy about her surgery, Jackson had hoped that the photos would help other women with breast cancer realize that it is not a death sentence. "The images aren't fluffy, they are real and I am very proud of them."
Instead of the positive feedback she expected, Joanne got a scathing message saying:
"Content you shared on Facebook has been removed because it violated Facebook's Statement of Rights and Responsibilities. Shares that contain nudity, pornography and graphic sexual content are not permitted on Facebook.