Exclusive
'Facebook's Mistake Was Blessing,' Says Mother Of Baby Born With Severe Brain Defect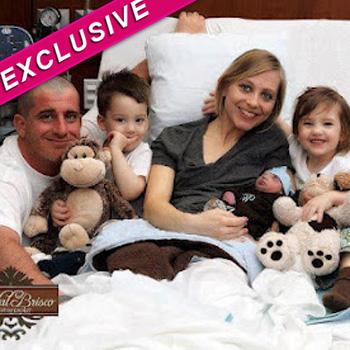 Article continues below advertisement
As previously reported, Grayson James Walker was born February 15, and survived just eight hours because of the effects of Anencephaly, a rare neural tube birth defect in which a baby develops without parts of the brain and skull.
Despite the site threatening to ban her, Heather said she isn't going to cancel her Facebook page because it is a way to share and help other people. "I've met two women in Memphis over the past week who are pregnant with babies with Anencephaly, and have gotten messages from people all over the world who want to do fundraisers," she explained.
"It felt like I had a slap in the face and made me upset, but I am not going to close my account as it's a way for me to receive healing," explained Walker.
"The apology is what it is, regardless of how sincere Facebook was I am not going to fight them or be bitter," said the 28-year-old mother of two, who said she was "frustrated and angry" when the photos of Grayson with his brain exposed were removed last week and replaced with a threatening message from administrators.
Article continues below advertisement
"They told the local news they only banned me from uploading pictures and that is not true. It is frustrating.
"I couldn't look at my page, I couldn't hit the 'like' buttons, I couldn't upload anything and I couldn't comment. The purpose of Facebook is to share with your friends and family things that you like. How can this not be sharing?"
Walker was inspired to post the photo that was considered offensive last Tuesday after seeing an episode of the ABC medical drama, Private Practice, where one of the character's babies was born with a similar condition.
"Mother's Day last week put the icing on the cake," she told RadarOnline.com. "I was stressed, upset, angry and I was missing him. When I watched Private Practice they showed the baby's head and I wanted to do the same.
"Watching the show made me proud of Grayson. I didn't care what other people thought, I wanted to share him because I loved him," she revealed. "I never thought that they would remove it. It was even more upsetting because I was having such a hard time last week."
Article continues below advertisement
Heather went on to explain how she and husband, Patrick Walker, found out about Grayson's condition when she was just 16 weeks pregnant, but the couple never dreamed of having an abortion.
"I was a crying wreck, but believed it was God's job to bring life and take it away. I have the hope and faith that I am going to see him again in heaven."
Instead of terminating the pregnancy, the Walkers and their two children, Ellie, four, and Noah, two, bonded with Grayson before he was born and took her baby bump for family days out.
"We had a Grayson 'bucket list' and we tried to capture everything while I was pregnant. We went to Build-A-Bear and they made stuffed animals and named them after him," explained Heather.
"We treated it like a normal pregnancy. He kicked harder than either of the other two did," she said, which gave her false hope that maybe he would prove the doctors wrong.
"I did believe at first that what they saw wasn't right and that something was going to change but then it became evident and we realized we had to accept what was ahead of us. We hoped even on the day he was born that God could do a miracle and make his head complete."
Article continues below advertisement
Sadly, the impossible didn't happen and Grayson was born with parts of his brain and skull missing, "His right eye opened a little bit, but because of his skull not being completely developed his left eye stayed open," Heather wrote on her blog.
"There was no chance of survival," she told RadarOnline.com. "Everything about him was perfectly normal and from his nose down he looked like a normal baby, all his organs were formed but unfortunately because his skull wasn't complete part of the brain stem didn't form."
Babies with Anencephaly often die within minutes of birth so the doctors were blown away that Grayson lasted as long as eight hours because his brain was exposed to the air. "One baby reportedly lived three months, which is miraculous," explained Walker.
After her baby boy succumbed to the inevitable, Heather told Patrick that she thought the miracle was not about him living, "but that something good is going to come out of his death."
Article continues below advertisement
Now the former teacher at a low income school wants to start an organization to create care packages for families who have lost babies.
"I was able to have time to prepare and really treasure the memories at the hospital with Grayson, but a lot of parents don't have the chance to prepare and don't know who to call to arrange keepsakes," she explained.
Heather and Patrick are also planning to try to have another baby next year, who they will name after their short-lived son.