Facebook Bans Loving Photos Of Baby Born Without Part Of Brain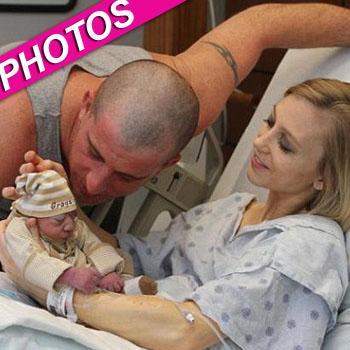 In the same week that Facebook went public, making billionaires and millionaires out of hundreds of employees including founder Mark Zuckerberg, it did the unthinkable to Heather Walker. It banned the photos she's posted of her deceased infant son, Grayson.
Grayson James Walker was born February 15 with the rare disorder, Anencephaly, which prevents the brain from developing. His mother and father, Patrick Walker, knew from the fourth month of her pregnancy of the baby's terminal condition. Still, Heather decided to carry him to term, knowing he'd live only a few hours.
Article continues below advertisement
Heather shared the heartache her family was experiencing on an emotional blog in the hope it might help other families.
And on the day of his birth, a charity called Now I Lay Me Down To Sleep sent in a professional photographer to take photos of the Walkers with their tragically deformed newborn and the delivery room nurses made clay hand and footprints for the grieving parents.
Last week, Heather decided to post the photos on her Facebook page and was stunned by the outcome. Facebook deleted her photos and banned her from the site for 24 hours.
"Facebook deleted them because of the 'content'," Heather said. "They allow people to post almost nude pictures of themselves, profanity, and so many other things but I'm not allowed to share a picture of God's beautiful creation."
Heather's friends rallied by posting the pictures on their own Facebook pages, and after the 24-hour ban was over, Heather's own page was back up with the photos. They are only available to people she Friends.
Article continues below advertisement
Ironically, the TV drama Private Practice just featured a storyline where one of the doctors discovered she was carrying a baby with Anencephaly. She carried the baby to term and then donated his organs to other infants in need.
Heather is keeping her blog going, and on May 16 even wrote about seeing the Private Practice episode.
"As I was watching Private Practice last night, I was taken back to that day for a moment. Amelia, one of the doctors, had a baby with anencephaly. As she voiced what she was feeling that day, I too can relate. I remember lying in the hospital bed wondering if he was going to be alive or how long he was going to live. I wondered what he was going to look like. So many thoughts rushed through my brain that Wednesday morning.
"Of course he was perfect and fought for 8 hours. He was so beautiful and sweet."
RELATED STORIES: