Facebook Apologizes To Family For Deleting Photos Of Their Baby Born Without Part Of Brain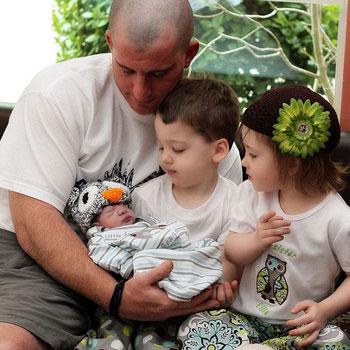 Facebook has issued a public apology to Heather Walker and her family following the outrage that erupted over the social media site deleting photos of her baby son who was born without parts of his skull and brain.
RadarOnline.com reported on the heart-wrenching story of the Walkers. Four months into her pregnancy last year, the Tennessee woman learned the baby she was carrying was afflicted with Anencephaly, a rare condition that would prevent the brain from developing. Even though Heather and her husband Patrick knew their baby would be born severely deformed and would likely live only a few hours, she made the decision to carry him to term.
Article continues below advertisement
Grayson James Walker was born February 15, and survived just eight hours. During his short life, the Walkers introduced him to their two older children, and had photos taken.
Last week, Heather decided to post some of those images on Facebook, just as she had with her older kids. She was stunned to have the photos deleted and her account frozen by Facebook for 24 hours.
"Upon investigation, we concluded the photo does not violate our guidelines and was removed in error," Facebook officials said in a statement to RadarOnline.com.
"Facebook is a place where almost a billion people share more than 300 million photos a day. Our dedicated User Operations Team reviews millions of pieces of this content a day to help keep Facebook safe for all ages. Our policies are enforced by a team of reviewers in several offices across the globe. This team looks at hundreds of thousands of reports every week, and as you might expect, occasionally, we make a mistake and remove a piece of content we shouldn't have.
"We extend our deepest condolences to the family and we sincerely apologize for any inconvenience."
Heather Walker continues writing an emotional blog about her "sweet boy."
It's unknown if Facebook founder Mark Zuckerberg, who married his physician girlfriend Priscilla Chan last night, was aware of the controversy.
RELATED STORIES: