Exclusive
Lawyer Suing Casey Anthony: She Is Incapable Of Telling the Truth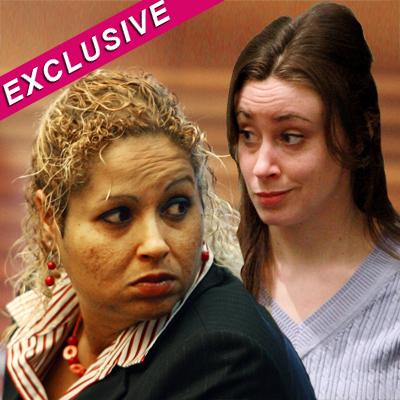 Article continues below advertisement
There have been reports that Casey Anthony may be willing to make a public apology to Zenaida, but one of her attorneys, John Dill, exclusively told RadarOnline.com that isn't good enough and that she is incapable of telling the truth.
"We have heard those reports," Dill said. "And let me say this very bluntly, an apology isn't good enough, period. It's meaningless, and Ms. Anthony seems to be unable to tell the truth."
Dill continued, explaining what they want from Casey.
"We want her to testify under oath, under penalty of perjury. My client deserves answers about what motivated Casey to do the things she did, as our client has suffered substantially because of someone else's actions," Dill asserted.
The civil case has been moved to January 2013 after Casey's lawyers argued it was unsafe for the notorious 'Tot Mom' to come out of hiding and appear in court.
Article continues below advertisement
"We were finally able to successfully serve a subpoena on Thursday to Casey Anthony's lawyers, ordering her to appear at the civil trial which is scheduled to begin in January 2013," Dill said.
"We had been trying for months to serve her, and we were finally able to get it done this week, after a lot of legal wrangling because Casey wouldn't accept the subpoena at the location she has been hiding out in. Our client is thrilled that Ms. Anthony has now been formally served and it's a successful start in the proceedings."
"During the deposition of Ms. Anthony which was done via Skype, in which she wore a disguise, we didn't get much from it, so we are certainly looking forward to having her sit and answer questions in front of our client, and a jury of Casey Anthony's peers."
In the days after Casey's daughter, Caylee, was reported missing in 2008, her mom claimed that a woman with a similar name kidnapped her then two year old daughter. Casey was charged with killing her daughter, and was acquitted by a jury last year.
Article continues below advertisement
According to reports, Casey Anthony is "annoyed" that she has to testify at the upcoming trial, and Zenaida's lawyer minces no words and said, "Too bad! Yes, we heard that Ms. Anthony was annoyed that she was going to have to testify at the trial. This was all brought on by Ms. Anthony herself, she is the one that started down this road by, and it's time that she be held to answer for her actions. Zenaida's life has been absolutely upended by Ms. Anthony's actions, so, no, I don't feel bad that she is upset. Again, she brought this all on herself."
A jury of six people must come to a unanimous decision on a verdict under Florida law, and Dill said there is a possibility that they could depose Anthony again before the trial starts. "The judge has ruled that Ms. Anthony can't testify while she is appealing her conviction in the check writing case, but that could be resolved well before January, and if it is, we would likely see to have her deposed again, in preparation for the trial," Dill revealed.