Inside The Bay District School Shooting: Shocking Footage Of Terrifying Gunpoint Siege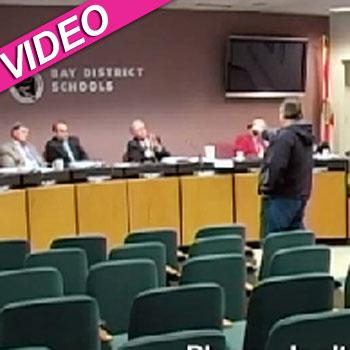 Hold on tight, things are about to get more than a little scary.
You will soon be able to experience the tension of hostage negotiations first hand, but thankfully, in the comfort and safety of your own home.
It's all down to World's Wildest Police Videos on Spike, which returns May 7, to delight those with a vicarious thirst for danger.
The network has a raft of new episodes that provide access to shocking police footage never before seen on television.
Article continues below advertisement
This includes everything from high-speed car chases that turn deadly to bank robberies gone wrong. And the 2010 horrifying hostage siege at Bay District School in Florida is featured in full.
Clay Duke was killed after holding members of the school board at gunpoint, then shooting at them… thankfully with no fatalities.
The video shows school Superintendent Bill Husfelt trying to reason with Duke, who had a criminal record and was angry about his wife losing her job.
Husfelt tells the gunman that he authorized his wife's termination from her role, but didn't recall the circumstances.
"I'm the one who signed the papers, let them go," he says referring to the school board members.
At one point, Husfelt says: "I don't want anybody to get hurt. I've got a feeling that what you want, is you want the cops to come in and kill you because you are mad. Because you said you are going to die.
Article continues below advertisement
"But why? This isn't worth it," the superintendent tells the desperate gunman. "This is a problem."
Duke then points the pistol at the official. "Please don't. Please don't. Please," Husfelt pleads.
The gunman opens fire at Husfelt and the school board members. He misses them all, even though he was at close range, but it's still a terrifying scene to watch.
World's Wildest Police Videos returns Monday, 8/7c on Spike.