Exclusive
Jenelle Evans Needs Urgent Help Or She'll Lose Son Forever, Teen Mom's Friend Warns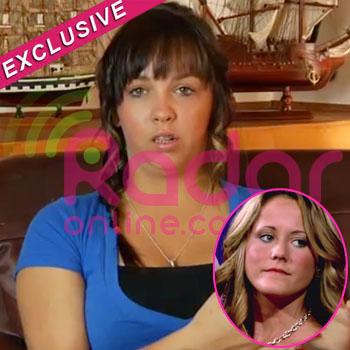 Teen Mom 2's Jenelle Evans is suffering from anger management and mental health issues and needs to get help urgently before she loses her son forever, her friend Tori Rhyne tells RadarOnline.com exclusively.
"I used to worry about Jenelle almost every day," she said. "Wondering what she's getting herself into, what she's doing, how she's handling things.
"Because at any time, Jenelle can flip out and just go crazy. She just freaks out too easily on people.
Article continues below advertisement
"She has an anger problem herself. So if she gets mad, she's going to hit her boyfriend. She means business, I guess you can say. Instead of just jumping in and beating you in the face, she's just going to choke you first and let you know that she's not playing around.
"Jenelle will chase you. If you're trying to walk away from her to calm down, she won't let you sometimes. She wants the situation to be handled right then and there. Whether it gets worse or it gets better."
Jenelle has split from boyfriend Gary Head and is set to seek custody of their two-year-old son Jace.
But Tori says that Jenelle, 20, is not spending much time with the toddler and she is putting on a front as to how much effort she is devoting to motherhood.
"Sometimes, she'll put on Facebook that she was with Jace. But really she wouldn't be. She just wants her fans to see that she's not a bad mom," Tori revealed.
Article continues below advertisement
"I don't know how much time she's actually spent with Jace lately. But when I was hanging around her it was like maybe once a week, or two times every two weeks. I mean it wasn't that much.
"I just want her to straighten her life up and quit doing the things she has been doing and try and get Jace back, finish school.
"I don't want her to always be stressed out."
As RadarOnline.com previously reported, Tori also accused Jenelle of having self-destructive behavior including cutting herself.