Exclusive
Friend Spills On Teen Mom Jenelle Evan's Horrific Self Mutilation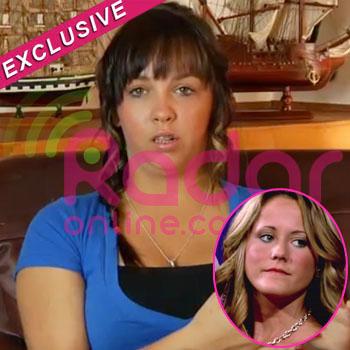 Teen Mom 2's resident wild child Jenelle Evans has never been short on troubles, and a close friend of the MTV star tells RadarOnline.com exclusively that the reality star used to cut her own flesh with scissors and razors to cope when things took a turn for the worse.
Tori Rhyne, a longtime pal of the Oak Island, North Carolina native, told RadarOnline.com that Jenelle's family turmoil initially put her in a bad place, leading to the self-destructive behavior.
Article continues below advertisement
"They're all crazy," Rhyne said of the Evans family, adding that when Jenelle's parents split, "It just messed with her head."
FIRST PHOTO: Teen Mom Jenelle Evans In Rehab
Rhyne said Jenelle would constantly call her crying, and she would reassure her things would get better. Rhyne said she became painfully aware of Jenelle's cutting fixation when she would visit her house with her wrists concealed, either wrapped or covered in long sleeves.
"Sometimes you could see the blood and stuff," Rhymes recalled, adding she would try and cheer Jenelle up by telling her that "she is not alone."
Rhyne admitted her frustration with Jenelle's tendencies even caused her to turn physically abusive toward her friend at times.
"I would actually slap her cuts that she had on her wrist," Rhyne said. "I know when I did that it was gonna hurt her a little bit."
Article continues below advertisement