Taylor Swift Entertainer Of The Year For 2nd Year In A Row At Country Music Awards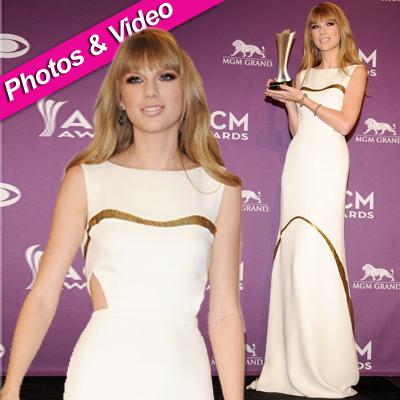 Taylor Swift was crowned entertainer of the year for the second straight year at Sunday's 47th Annual Academy of Country Music Awards, and in her acceptance speech, she gave a shout-out to an ailing fan, Kevin McGuire, a high school football player fighting cancer who she invited to the awards before he was hospitalized Friday. 

"Thank you so much to the fans who voted for this," the 22-year-old, looking gorgeous, said in her acceptance speech. "I am so happy about this! I want to say to my fellow nominees in this category (They were: Blake Shelton, Brad Paisley, Jason Aldean and Kenny Chesney). I respect you so much and I love you.
Article continues below advertisement
"We work hard and we try to give back, and recently I've become aware of a different struggle that's going on: My date tonight was supposed to be a high school football player named Kevin McGuire, and he's not here, but I promised to give him a shout out. So Kevin, all your family and friends -- thank you for wanting to take me to the ACMs."
Justin Bieber Gets Slimed At Kids Choice Awards
Swift was made aware of McGuire via a Facebook campaign Kevin's sister arranged to get Swift to attend the prom with him.
 
Shelton -- who hosted the show with country legend Reba McEntire -- said Swift "deserved it," due to the audience she's turned onto country music with her mainstream crossover appeal. 

"I don't think there is anyone with half a brain that would say otherwise," The Voice star said. "She has done a lot for us in country music. We are lucky enough in country music to call her one of us. But I am always going to make fun of her in my monologues, so she might as well get used to that."


Watch the video on RadarOnline.com
Other winners on the night included Miranda Lambert who won the female vocalist award for the third straight year, and album of the year for Four the Record; and Jason Aldean and Kelly Clarkson, whose rendition of Don't You Wanna Stay got them the single record and vocal event of the year.
 
Two and a Half Men star Ashton Kutcher, a presenter at the show, donned a cowboy hat and showed off his singing skills. 

For a full list of winners, click here.
Fun fact: Billboard named Swift the music industry's most profitable performer of 2011 with $35 million in sales.