President Barack Obama & Jimmy Fallon Slow Jam The News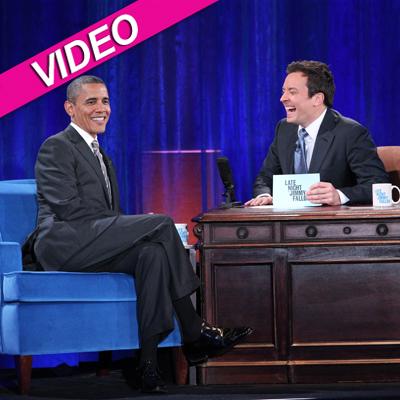 President Barack Obama and Jimmy Fallon collaborated in a memorable bit on Tuesday night's Late Night with Jimmy Fallon, taped at UNC-Chapel Hill.
In the exchange, Fallon and his band, The Roots, said how they wanted to "slow jam" the news when the commander-in-chief emerged and announced, "I'm President Barack Obama: And I too want to slow jam the news!"
From there, the two had a back-and-forth, as the president would read something official, then Fallon would interject with a soulful interpretation of the words of the president -- or as he called him, "The Preezy of the United Steezy."
Article continues below advertisement
"The reason it is so important to keep down costs is so we keep college affordable," the president said in a soliloquy about student loans, to which Fallon riffed, "And the president knows his stuff y'all, that's why they call him the Potus -- which means Person on top... what is it?"
"The President of the United States," the commander-in-chief reminded the late night host, after which The Roots chimed in with, "The Potus with the mostest!"
MORE ON:
hollywood happenings
"And that -- is how -- we slow jam the news!" Fallon said to a standing ovation.
Watch the video on RadarOnline.com
The first couple has a good rapport with the late night host, as Michelle Obama took on Fallon in a gauntlet of physical challenges to commemorate the second anniversary of her Let's Move campaign in February. (As for The Roots, they showed their support indirectly with a questionable musical tribute to Rep. Michele Bachmann when she appeared on the show late last year.)