Jimmy Fallon Apologies To Michele Bachmann For Offensive Intro Song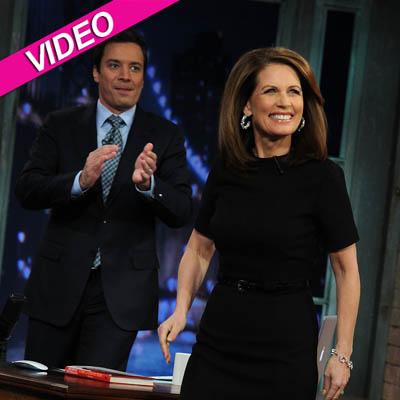 Late night funnyman Jimmy Fallon apologized Tuesday to Rep. Michele Bachmann after his band serenaded her with Fishbone's 1985 track "Lyin' A** B****" in her appearance on the show Monday.
"I'm honored that @michelebachmann was on our show yesterday and I'm so sorry about the intro mess," he tweeted. "I really hope she comes back."
Fallon was unaware the band would be playing the track; bandleader/drummer Ahmir "Questlove" Thompson summed up his song selection about the Republican presidential hopeful as "a tongue-in-cheek and spur of the moment decision.
Article continues below advertisement
"The show was not aware of it and I feel bad if her feelings were hurt," Questlove, a noted supporter of Pres. Barack Obama, said in a statement. "That was not my intention."
Watch the video on RadarOnline.com
Fallon later tweeted "@Questlove is grounded."